Nicky Campbell and Davina McCall: Our extraordinary Long Lost Family special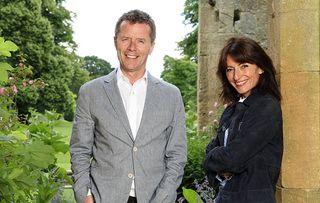 (Image credit: Wall to Wall)
Nicky Campbell and Davina McCall on helping foundlings find their birth relatives in a moving Long Lost Family special
They've been reuniting relatives for eight years on Long Lost Family. But Nicky Campbell and Davina McCall admit that their one-off ITV special Long Lost Family: Born Without Trace has been their most moving experience on the show to date.
The programme follows three people who were abandoned as babies and their attempts to get answers about their origins. Experts compare the foundlings' DNA with millions of other people's DNA on databases to see if there are matches for blood relations.
Here, Davina McCall and Nicky Campbell tell TV Times about the Long Lost Family Special: Born Without Trace…
How has Long Lost Family: Born Without Trace compared to the usual Long Lost Family shows?
Nicky Campbell: "Long Lost Family is incredible and life-changing. But this is the most extraordinary programme I've been involved with, it's on a different level. I'm adopted and was given information but these people thought they had no hope. In comparison to a usual Long Lost Family, this is as much about finding out about yourself as finding someone else."
Do you have to approach it differently?
Davina McCall: "Our duty of care has to be without fault. Maybe because they are foundlings, they seem more vulnerable than anyone that we've worked with. You have to deal with it in a slightly different way. It's a lot slower, a lot calmer."
How does the show work?
DM: "Our experts do detective work on DNA. When you get a match that is a distant relative, you work through very carefully, generation by generation, looking at strands and family stories and that's how you find people. It is incredible." NC: "It gives me the shivers."
What reaction have you had from the foundlings when you have discovered their relatives?
DM: "All these people are very understanding and non-judgmental. I've never met a foundling who is angry or wants retribution, it's just about answers. We cast no judgement. Nobody wants to leave a baby; it'll always be a mum in turmoil and a big secret, which is why it's been hard for families to trace anybody."
Does Long Lost Family still make you emotional?
DM: "I'm usually in tears reading their stories, but by the time I get to the contributor I've done my crying and I can just be straight. Then I watch it at home so I can silently weep and text Nicky telling him how much I'm weeping!" NC: "On the American version they show the presenters crying but no matter how emotionally we react, it's on the cutting room floor, because it's not about us."
Long Lost Family Special: Born Without Trace airs on Monday 25 February at 9pm on ITV
Get the latest updates, reviews and unmissable series to watch and more!
Thank you for signing up to Whattowatch. You will receive a verification email shortly.
There was a problem. Please refresh the page and try again.