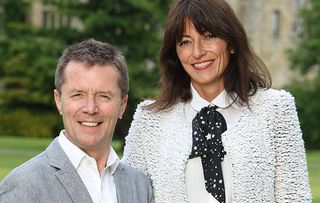 Davina McCall and Nicky Campbell return to help more people reunite with long-lost relatives, including Pearse who finds his birth dad Eddie
Davina McCall and Nicky Campbell return to help more people reunite with long-lost relatives.
As Nicky Campbell and Davina McCall (above) put us through the wringer once more with the return of the highly addictive blub-fest, they kick off with emotional searches on behalf of two of their youngest participants.
First up is Irishman Pearse Egan, 29, who has never met his dad Edilson Santos ('Eddie'), and has only had a brief phone call with him when he was a boy.
But after hearing a rumour that Eddie has been ill, Pearse embarks on a trip to New York to find him.
Meanwhile, Christina, 27, was born in Colombia and adopted by a British family, and she is utterly stunned by the discovery Nicky makes when he heads to Bogota to track down her birth mum…
We asked Davina if she can imagine doing this show for many more years.
'A lot of the adoptions were from the 1960s and 1970s – after that, it wasn't so hard to stay in touch with people, so I imagined it would come to an end point. But we're finding that even when people have passed away there are often other relatives to find,' she says. 'We have cousins who meet up this time.'
'Yes, every story is always different and that's why it's still going strong,' adds Nicky. 'We've also got other exciting programme ideas in the pipeline concerning different ways of starting or finishing these types of stories.
'For me, it is still a privilege to be involved in people's journeys. It's extraordinary television. It's not a job; it's a life experience for us,' he says. ' I'd happily do it for nothing.'
TV Times rating: *****
TV Times Highlights Editor
As TV Times Highlights Editor I get to hear about all the latest TV shows coming soon. Here at TVT HQ we are in the privileged position of selecting the best programmes from across all the channels and streaming platforms. Our mission is to make it easier for our readers to decide what to watch - and give them lots of choice of genres - all the latest shows, plus some nostalgic choices we call hidden gems, too. My career began with a postgraduate degree in periodical journalism (ahem, yes old school!) in 1991 and I've worked in TV media since 2000.
Thank you for signing up to Whattowatch. You will receive a verification email shortly.
There was a problem. Please refresh the page and try again.