Nina Forever (2015) | A quirky, sexy and darkly funny British zom-rom-com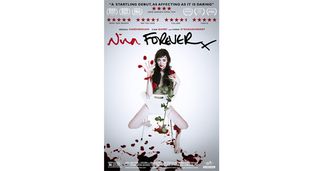 Lovelorn supermarket shelf-stacker and paramedic in training Holly (Abigail Hardingham), sets her sights on suicidal colleague, Rob (Cian Barry), who is still grieving over the death of his girlfriend Nina (Fiona O'Shaughnessy). But during the couple's first fumbling attempt at sex, Nina emerges from a blood-stained mattress to interrupt them. It soon becomes clear that the potty-mouthed Nina has no intention of letting Rob go, and wants Holly out of the way…
This quirky British indie horror comedy comes from writer/director brothers, Ben and Chris Blaine, who cut their teeth editing Jack Whitehall's Bad Education UK TV sitcom. But it's worlds away from that show's irreverent humour, as guilt, loss and closure lies at the dark heart of this black comedy, played out through a bunch of characters who are all stuck in their own particular limbo.
O'Shaughnessy (Utopia) steals the show as the annoyingly disruptive Nina and imbues her character with vocal mannerisms that reminded me of Michelle Gomez's Missy in Doctor Who, while Cian Barry (Doctor Foster) and Abigail Hardingham (Hollyoaks Later) bring a moody emo intensity to their dysfunctional wannabe lovers, Rob and Holly. While the film does falter in parts, David Troughton's forgiving dad and Elizabeth Elvin's grieving mum are on hand to paper over the cracks, with one scene in particular, in which Troughton's Dan lets slip his mask to vent his anger, supplying some genuinely raw emotion.
Nina Forever is available on Blu-ray and DVD, courtesy of StudioCanal
Thank you for signing up to Whattowatch. You will receive a verification email shortly.
There was a problem. Please refresh the page and try again.