Oh lucky man! James Nesbitt has an arresting superpower in new Sky 1 crime drama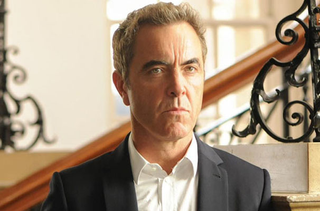 TV Times investigate Marvel's original 10-part series Lucky Man (Sky 1, Friday, Jan 22), in which James Nesbitt plays Harry Clayton, a troubled London police detective who suddenly acquires the unexpected gift of good fortune…
Harry's sudden run of good luck is connected to an antique bracelet he wakes up to find attached to his wrist after a one-night stand. Where does the show go from there?
"We're making a contemporary thriller and throwing in this magical element. Harry is a maverick who's committed to his job, but lives in a maelstrom of his own making. Why has he been chosen to be the bearer of the bracelet? I think because he's someone who, like every superhero, has good at his core, despite his flaws."
You've chosen to follow a profession in which the odds are heavily stacked against succeeding. How big a factor has luck been in your own career?
"I'm someone who works hard, but it would be impossible for me not to acknowledge that I've been incredibly lucky. Often that's about being in the right place at the right time, or chancing upon something that leads to something else. But luck is crucial for any actor."
What's the competition been like for you?
"I went to drama school from 1985 to 1988, and we were considered to be a very good year. But of the 28 people who graduated, I'd say only three or four of us are working: myself, Jason Isaacs, James Purefoy, Jared Harris, and that is it. The rest have either given up or are doing very little."
If could pick a superpower, what would it be?
"Well, my favourite superhero was [Manchester United's ex-footballer] George Best! But I always liked the idea of being able to fly and, when I was in my teens, the idea of being invisible – for all sorts of reasons. If I had a magic bracelet myself, I'd probably sell it. I'm a Northern Irish Presbyterian, and we don't really go in for jewellery."
Although it would be easy (especially for a gambling addict!) to abuse the power of guaranteed good luck, could Harry's newfound ability offer a chance to mend his broken life?
"As the story gathers pace, Harry begins to realise that there might be redemption in it for him. Redemption as a policeman, in terms of what he can achieve with this wave of crime sweeping the city, which seems to be connected to the very dark underbelly of London. And redemption as a human being - it's a journey he's taken on, although ultimately it puts him and his loved ones at great risk."
Have you enjoyed portraying Harry's troubled persona?
"It's nice to play flawed individuals, and it's easier for me to locate them. You want a hero who is flawed, as it's much more interesting, and there is something appealing about Harry's addiction and his weariness. You want to create a fine line where it shouldn't be easy to love him."
And you were pleasantly surprised about the casting of Harry's half-brother, Rich…
"Years ago, when I was doing [TV crime drama] Murphy's Law, I offered the prize of a day on set with me for a charity fund-raiser. The person who turned up was a young lad of around 18 called Stephen Hagan, who was interested in acting, and now here he is playing my half-brother in this. It's a nice touch!"
Get the latest updates, reviews and unmissable series to watch and more!
Thank you for signing up to Whattowatch. You will receive a verification email shortly.
There was a problem. Please refresh the page and try again.