Olly Murs: If there was no Caroline there was 'no way' I was going to host X Factor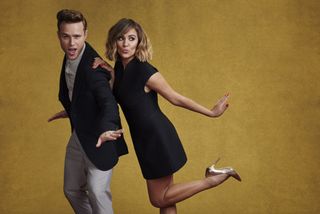 It's all change at The X Factor with some new judges and two brand-new hosts, Olly Murs and Caroline Flack.
Here, the duo reveals what's in store as the search to find the UK's hottest new singing sensation returns to ITV this Saturday…
How does it feel going from hosting The Xtra Factor on ITV2, to hosting the main show on ITV?
Caroline: "It feels amazing... and a bit surreal. But really natural being with Olly."
Olly: "With everything we've been doing it's like it doesn't feel real… I think when we walk out for the first time when the show goes live, and we're actually on TV, that's when it will be real."
As the auditions begin, you will be waiting in the wings as the contestants are either put through – or sent home. How have you found consoling the rejected hopefuls?
Olly: "On The Xtra Factor, our job was to have a laugh with the contestants but, on the main show, you're seeing their big dream get destroyed, so it's been hard for us to get used to the seriousness of it. Saying goodbye has been really emotional – we've both been crying as well!"
Caroline: "Everyone loves an 'Olly' hug, so he's the one they all go to!"
We've got two new judges this year in the shape of chart star Rita Ora and Radio 1 DJ Nick Grimshaw. What do you think they bring to the panel?
Olly: "Some people forget that Rita was actually a guest judge on The X Factor before she became a coach on The Voice. Rita's been brilliant and has brought a lot of youth and fun to the panel."
Caroline: "Yes, there's a lot of warmth coming from Rita, which is really nice."
Olly: "Nick knows he can't sing, so he's just been really constructive with the contestants – he knows who the public will like and what they'll want to listen to on the radio!"
Simon Cowell and Cheryl Fernandez-Versini are also back on the panel. Is Simon being tougher on the contestants this year?
Caroline: "Well, no, because I think it's actually going to be much easier to find a star this year because of the talent we've got. I think he's been shocked by how good the talent is. So, of course he's tough, but this year it's going to be really tough choosing the finalists."
What do you think the judges are looking for this year?
Caroline: "It's all about the vocals, we've got lots of powerhouse singers and people who are bringing back really soulful singing. Honestly, I really don't know how the judges are going to whittle it down to just 12 contestants. That's how good they are."
Olly: "It sounds ridiculous but the girls' category, for example, could potentially have 12 girls in the final! Not just in terms of their voices but how they look, their style and the way they present themselves. It's just a phenomenally talented year!"
Caroline, have you been able to reflect on the year you've had: leaving The Xtra Factor, winning Strictly Come Dancing, now returning to host The X Factor?
"I know! It's been a crazy year and it's gone really quickly. Exactly this time last year I was walking away from The Xtra Factor and I had to say my goodbyes properly because it had been a big part of my life. Then I went onto do Strictly, which was just incredible, and now I'm walking back into X Factor again, which is weird because I'd sort of closed that chapter. So it's been a strange experience going back – but a lovely one."
And Olly, did you have any reservations about how hosting The X Factor might impact on your music career?
"Not at all. When we hosted The Xtra Factor, I released music at the same time and it did brilliantly. I got number one singles and albums, so it would never be a conflict of music and doing this job. The only reservation I had was that I only wanted to do the job as a co-host with Caroline. If there was no Caroline, there was no way it was ever gonna happen!"
Is this a 'make or break' year for The X Factor?
Caroline: "I think people say that every year, so you can't pay too much attention to that. As hosts, we've just got to do the job and enjoy it – and we do love it, so we don't think about stuff like that. I'd say there's a really nice, exciting and positive feeling around the show this year."
Olly: "This time, it's not going to be about the arguments between the judges – it's about how incredible the singers are. The talent this year is amazing!"
The X Factor returns on Saturday, August 29 on ITV
Get the latest updates, reviews and unmissable series to watch and more!
Thank you for signing up to Whattowatch. You will receive a verification email shortly.
There was a problem. Please refresh the page and try again.