Olly Murs on the return of The Voice UK: 'Until I win, I'm still the new boy!'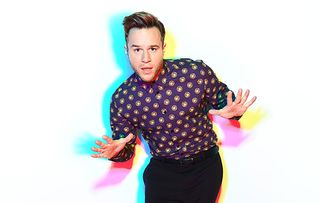 (Image credit: ITV)
The Voice UK is back – and coach Olly Murs has already got his eye on the prize…
As The Voice UK returns this week, superstar coaches Tom Jones, will.i.am, Jennifer Hudson and Olly Murs are back in those big red chairs, listening out for singing voices special enough to make them turn around!
While the coaches remain the same and host Emma Willis is back, too, the talent has been given a shake-up this series with contestants now being allowed to audition as trios.
As the Blind Auditions begin, coach Olly Murs, 34, reveals how he's in it to win it…
How does it feel to be back as a judge on The Voice UK?
"I'm loving it! I just really enjoy the whole process of doing this show; not just finding the talent but all the jokes and the banter with the other coaches. If Jen, Will and Tom hadn't come back collectively, I'm not sure I would have come back. I think we're just a great combination."
You joined the show last series. Are you pleased you're no longer the new boy?
"Until I win, I am still the new boy! I need to earn my stripes. But it's great; I don't feel as inexperienced this time. I feel a bit more like I'm in it. I'm trying not to look at Will too much during the auditions because he's trying to play games with me – but it's cool, it's fun."
The Blind Auditions are open to trios this year. What does that add to the competition?
"It's amazing to have trios and I think it's great that the show is developing like that. Jennifer was in Dreamgirls, so she knows what it's like singing in three-part harmonies. It's pretty awesome. But, as always, we're all looking for something different, something unique."
So, what are you looking for on Team Olly? We've heard you've been quite fussy…
"It wasn't for not trying! I turned six times in two days for people and was just unlucky in the pitches with the other coaches. Then I got three or four artists on my team and started feeling more confident, which allowed me to be a little more fussy. It's how I am with my own career. I don't want to repeat anything I did last year. I don't want to do a song I did last year. I don't want anyone on my team like I had last year. I always want something fresh."
Has it been really competitive between the coaches this time?
"I am competitive and I do want to win but, at the same time, I'm just really happy when one of us turns for talent because it means that the whole show is going to be good. All the coaches want to help change people's lives."
The Voice UK starts on Saturday January 5 at 8pm on ITV.
Get the latest updates, reviews and unmissable series to watch and more!
Thank you for signing up to Whattowatch. You will receive a verification email shortly.
There was a problem. Please refresh the page and try again.