Ordinary Lies' Jo Joyner: I hope viewers sympathise and understand Beth's lie (VIDEO)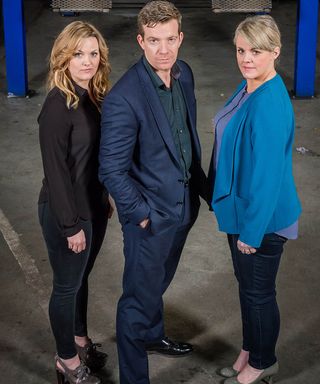 (Image credit: BBC/Red Productions/Ben Blackall)
Jo Joyner hopes viewers can sympathise with her character and her big secret in Ordinary Lies.
In the BBC1 drama, ex-EastEnders' star Jo plays Beth, who has been in turmoil for the past year, ever since her husband left home one day and never came back.
"Beth's been coping for a year," Jo told What's on TV. "She's kept her job going, she's kept her family together, somehow, and we then follow her on a bit of a journey where she's kind of in this place of limbo – she doesn't know whether her husband's been murdered, or just left!"
In next week's episode of Ordinary Lies, Beth begins to suspect that a fellow colleague knows something about her husband's disappearance…
Meanwhile, not knowing where her husband is, Beth has started a secret relationship with JS Motors boss, Mike, played by Mad Dogs' stars Max Beesley. But Jo hopes that, even with this secret, viewers will sympathise with Beth's story.
"Who can imagine what it must be like and how lonely it must get when you're in this limbo that she's in," said Jo. "So I hope they will understand her journey."
Ordinary Lies continues on Tuesdays at 9pm on BBC1.
Get the latest updates, reviews and unmissable series to watch and more!
Thank you for signing up to Whattowatch. You will receive a verification email shortly.
There was a problem. Please refresh the page and try again.