Paul O'Grady: 'I'm nearly 60 – I can do what I like!'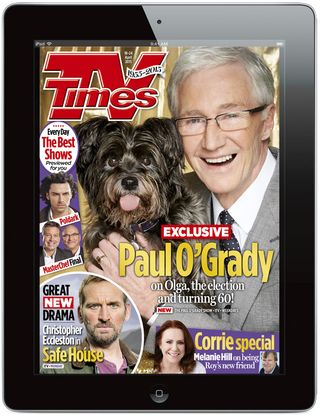 As his teatime chat show returns, The Paul O'Grady Show (ITV, Mon-Fri), reliably outspoken Paul O' Grady talks to TV Times about turning 60, how he'll be voting for at the election and the moment Amanda Holden upset the Queen.
All the while, preparing for her very first TV Times cover shoot is his faithful companion, adorable terrier, Olga watching him quietly, accepting fuss from anyone who wanders past.
This is Olga's very first TV Times cover and she's so sprightly, it's difficult to believe the vets wanted to put her down two years ago...
"God love her, she got diagnosed with cancer and I was filming in Africa at the time. I told them to wait till I got home and now she's on chemo tablets that I get from America. She's still a star."
Olga has a rival at your Kent farm, another Battersea rescue even though you told us four dogs was your limit!
"Well, my friend Joan rescued a Shih-Tzu called Boycie, but he started having epileptic fits. I was on holiday and I told her, 'When I come back that dog had better not be at my house.' Of course he was and within three days I said, 'This dog ain't going anywhere!'"
Is it right that Boycie reminds you of beloved Buster, your first pet?
"Yes, he's just like him, it's scary – he's got the same manner, he sits in Buster's place on the step so he can see everything, he chases ducks, he stands on his hind legs – you'd just swear it was Buster sometimes. He's a smashing little fella."
Boycie is going to be in your new series alongside Olga, with lots of animal antics and celebrity chat. But are you going to be more outspoken than usual?
"I'm hitting 60 this year and I've decided that means I can do what I like. Everyone is so anodyne on television, nobody says anything and it's all so twee, it drives me mad. But I don't mean I'll turn into Katie Hopkins – hateful woman. She's awful. Anyone over two stone is accused of being a glutton!"
Will you be following the upcoming General Election?
"I'm interested in what's happening to the National Health Service, because that was the envy of the world and now it's not. People can't get appointments at their GP for five weeks and it's just wrong, we need to do something. I basically think they should go back to the old structure of hospitals with a matron and ward sisters."
You would have been a good host for the recent TV leadership debates. What do you reckon?
"I watch those programmes and get very angry. I shout at the telly because they're such liars. That's why I like Ed Miliband, I've met him so many times now and I've been to funerals with him. He's such a decent bloke and he's passionate, but it's all about celebrity now.
"If you look like a glamorous film star it doesn't matter how incompetent you are, you'll get in, but if not you'll struggle. I've got a lot of respect for Ed, I really have."
So what would it be like if you were Prime Minister for the day?
"It'd be a reign of terror! A dark cloud would come over London all of a sudden, I'd be sat there in Number 10 with a long list of what was forbidden! I'd need fearless people in the cabinet, the likes of Carol McGiffin who would kick off. We need coppers back on the streets, all the money is wasted on cycle lanes."
You're filming a wildlife series for ITV in Borneo then returning to Battersea Dogs Home for more For the Love of Dogs and as
ambassador for the charity you recently had a visit from the Queen. What was that like?
"There's never been a corgi in and lo and behold two days before she arrived we get this huge 12-year-old corgi, so we had him there to meet her. Amanda Holden was there and asked her if she wanted to rehome it. The Queen said no and the Duke of Edinburgh gave Amanda a look that would melt concrete."
What was Amanda's reaction to that?
"She said to me afterwards, 'I think I've upset the Queen' and I said, 'I know you have! She's in her eighties, what does she want a 12-year-old corgi who will go in and attack her other two dogs while she breaks her neck over them? She doesn't want that!'"
Get the What to Watch Newsletter
The latest updates, reviews and unmissable series to watch and more!