Peaky Blinders' Cillian Murphy: 'As soon as I get my Tommy haircut, it's game over'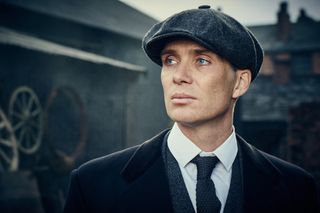 TV&Satellite Week (opens in new tab) is standing on a quiet street in 1920s Birmingham when suddenly a Bentley roars around the corner. The imposing vehicle slams to a halt and out steps the frightening figure of Tommy Shelby, coldly surveying his empire from under his peaked cap before disappearing into a building containing his booming betting business.
We're on set for the third series of Peaky Blinders (opens in new tab) (premieres Thursday, May 3) BBC2's epic story of a Birmingham gangster family's rise to power. When the scene ends we grab a chat with its star, Cillian Murphy, who plays crime lord Tommy.
Tommy is obviously doing very well for himself as he's now driving a Bentley...
"It's that classic gangster narrative of someone enjoying success and trying to go legit, but as you'll see Tommy is constantly being pulled back into the criminal world from where his family came."
The show's producer told us that the vintage Bentley is worth £400,000. You must be worried about crashing it?
"Yeah, I am. I'm not really into cars, but you do feel a slight responsibility driving it."
Series three opens on Tommy's wedding day, but will he marry former barmaid Grace (Annabelle Wallis), who's carrying his baby? Or, will it be rich widow May (Charlotte Riley), who has the powerful connections that Tommy craves?
"Of course I won't reveal the bride's identity, but the wedding doesn't go smoothly. The interesting thing about Tommy is that he never reacts how you'd expect a normal human being to react and that's why he's such a brilliantly drawn character.
"You can always expect the unexpected with Tommy, so on his wedding day he's not behaving in the normal manner of a groom."
There's continued hatred in this series and Tommy has a formidable new foe standing against him, fiery clergyman Father John Hughes, played by Paddy Considine. Tell us more...
"There's a hatred that runs deeper than anything we might have seen before between Tommy and his enemies. In the past there's been that honour among thieves thing that he's had with his other adversaries, but it's safe to say there's no honour between these guys and that the hatred is the darkest we've ever encountered.
"This is the most pressure we've ever seen Tommy under and I think over the course of the six episodes audiences will begin to wonder if he's taken on too much this time."
You must be delighted to be working with your friend Tom Hardy again, who returns towards the end of the series?
"Tom returns as London ganster Alfie Solomons and it's always great fun working with him. We starred alongside each other in The Dark Knight Rises, so we always try and have a laugh between takes because the scenes are so powerful."
Peaky Blinders now has a global fan base and is screened in more than 160 countries. Does this mean you can never entirely escape Tommy.
"As soon as I get my Tommy haircut, it's game over. I did a film recently in the Czech Republic and they love it there. I thought I'd be able to safely walk along a street in Prague, but there were a lot of people who came up to me because they love the show."
Series creator Steven Knight has said that he'd like to take Tommy's story right up to the start of World War Two – is that something that appeals to you?
"My feeling is as long as the writing remains as strong as it is, then absolutely. It's very hard to find writing as good as this and characters as good as these.'
You play all your own stunt fights in Peaky Blinders. Is that something you enjoy?
"I love all that. The violence may look stylish or glamorous, but it always has consequences and I think the violence is much more realistic and brutal now than in the first series. As long as I'm fit enough and rehearse enough, there's no reason why I can't do my own stunts and it's great fun."
Get the What to Watch Newsletter
The latest updates, reviews and unmissable series to watch and more!