Pete's Peek | Fellini's bawdy Casanova still bewitches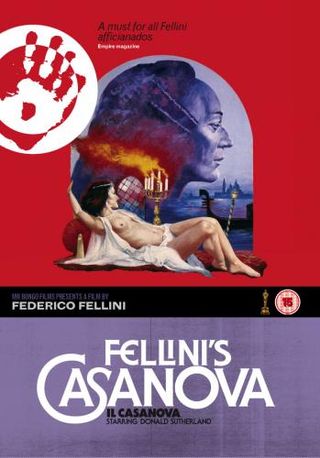 Having seduced audiences with his brilliant Roma and beguiling Amarcord, Fellini plays ringmaster once again in the delirious 1976 romp il Casanova, adapted from the memoirs of the infamous 18th-century lothario.
Donald Sutherland gives a wildly enthusiastic – and totally Fellini-esque – performance as the Venetian scholar reminiscing over his many erotic encounters throughout Europe after escaping the clutches of the Inquisition over a charge of black magic.
An ageing necromancer, several courtesans, a seven-foot amazon, diseased harlots, a hunchback and even a clockwork doll are among the many, many women the decadent dandy plays the fandango with – but true love is always out of his reach.
The screenplay is pure poetry, much of it Casanova's own, dwelling on man's pursuit and understanding of women – one of Fellini's favourite themes.
Being the visual auteur that he is, Fellini's populates Casanova's world with voluptuous, misshapen women (although Chesty Morgan is missing from this print); sexual degenerates and a cavalcade of sideshow freaks. It's exactly what you'd expect from the Italian maestro, who really goes to town with the film's $10million budget (huge at the time), with opulent sets, fabulously photography, Oscar-winning costumes, and Nino Rota's haunting score.
But this is also Sutherland's film - and he is freakishly spot on playing Casanova as a pathetic figure whose sexual conquests overshadowed his intellect. And he is nothing like the mythical figure we have come to know. In fact, I was shocked on its original release, but now, I am starting to warm to Sutherland's characteristic performance – though, I think approaching middle-age myself has something to do with that?
This European DVD release from Mr Bongo may not be the fully restored director's cut, but it's still a great way to appreciate Fellini's stylised, visually-daring, erotic (with clothes on) romp - apart from seeing it on the big screen of course.
Released May 17 http://youtube.com/v/u9LV0hxgdsM
Get the latest updates, reviews and unmissable series to watch and more!
Thank you for signing up to Whattowatch. You will receive a verification email shortly.
There was a problem. Please refresh the page and try again.