Pete's Peek | Christopher Lee flips his wig in the vintage historical horror The Bloody Judge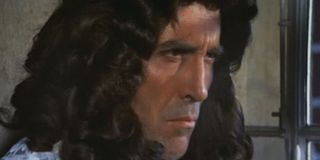 THE STORY In Jesús Franco's 1969 Euro-horror Christopher Lee (in a powdered wig) stars as the real-life 17th-century Lord Chief Justice of England, Judge Jeffreys, dramatised here as a depraved character who condemns women as witches to further his political and sexual needs. Catching his lusty eye is Maria Rohm's buxom wench Charity, who is forced to submit to Jeffreys' desires in order to stay alive. But the judge had better watch out, as William of Orange is poised to end his sadistic reign.
THE LOWDOWNThe Bloody Judge (aka Night of the Blood Monster) is one of two films that tried to emulate Michael Reeves' superior 1968 British period drama Witchfinder General. The first, Mark of the Devil, was a sadistic German-made sex movie that exploited its screen violence with sick bags being handed out to cinema patrons. Franco's film, however, is a much more restrained affair, with Christopher Lee in fine form as the dissolute Jeffreys, while cult legend Howard Vernon plays a genuinely sinister hooded executioner (obviously modelled on Boris Karloff's Mord in 1939's Tower of London). It's also so darn gorgeous to look at that you can forgive the film-makers for not using any real English locations.
THE DISC The Mediumrare Entertainment UK DVD release of The Bloody Judge contains a lovely print of the film (sadly there's no sign of the nudie scenes that were supposed to have been shot after Lee finished filming his scenes). Extras include interviews with Franco and Lee, deleted scenes, poster and stills gallery, trailer.
Released 21 January through Mediumrare Entertainment
http://youtube.com/v/VqOsFbN2Bug
Get the latest updates, reviews and unmissable series to watch and more!
Thank you for signing up to Whattowatch. You will receive a verification email shortly.
There was a problem. Please refresh the page and try again.