Pete's Peek | Fancy taking another ride with Gregg Araki and The Doom Generation?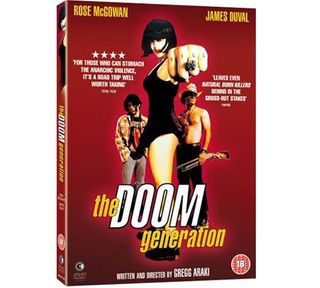 When it comes to the cinema of indie director Gregg Araki, it's a bit like Marmite - his style being a bizarre mash-up of post punk musings and John Waters humour, as though styled by Bruce Weber and shot by George Kuchar for an MTV music video. His latest offering, Kaboom, is currently showing on Film4, but what made his name were a trilogy of queer youth films (Totally F***ed Up, The Doom Generation and Nowhere) that came out during the 1990s, a period in which the fear of AIDS was all prevailing.
The Doom Generation, which is now back on DVD through Second Sight, follows the trail of bloody corpses, awkward trippy sex and highly quotable swearing that crystal meth freak Amy Blue (Rose McGowan) and stoner Jordan White (James Duval) leave behind as they head cross-country with a sociopath hitchhiker called Xavier Red (Jonathon Schaech) in tow.
Set in an American wasteland where reality is more like a twisted dream, this surreal, fluorescently-lit road movie is littered with wacky walk-ons (think The Brady Bunch and The Love Boat meets Skinny Puppy and Heidi Fleiss) and film references – the most obvious being 1967's Bonnie and Clyde. It's also the on-off gay director at his angriest – which manifests with full fury in the deeply disturbing and hard-to-stomach final scene where one of the threesome meets a very grisly end.
If you like your teen angst movies shaken rather than stirred, with a bit of gender bending sex, crazy violence and outrageous dialogue thrown in, then The Doom Generation might be worth another drive. It's also a whole lot easier to swallow if you tell yourself that it in no way represents the alternative music scene that it draws on (although the soundtrack is a must-have). 'Furry tuna taco', anyone?
Released on DVD from Second Sight
http://youtube.com/v/agRzpnS_FGw
Get the What to Watch Newsletter
The latest updates, reviews and unmissable series to watch and more!