Pete's Peek | Hammer's The Plague of the Zombies and The Reptile are back from the dead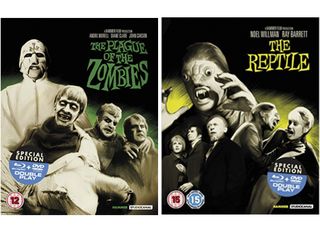 From StudioCanal come two vintage Hammer horrors, The Plague of the Zombies and The Reptile, which have been dusted down and given a lovely high definition transfer. It's no mistake that the actors, costumes and period setting of two films are the same, as the films were shot back-to-back in 1965. It was a cost-counting experiment that Hammer tried only the once, as the results were uneven - but not without merit.
Plague of the Zombies, one of the most celebrated Hammer productions of the decade, finds veteran actor André Morell playing a professor investigating a strange epidemic affecting a Cornish village, which turns out to be the work of a villainous squire (John Carson) who is using zombies to work his tin mine. Hammer's voodoo film is an entertaining creeper, containing some visually arresting moments, particularly a nightmare vision in a graveyard when the blank-eyed dead rise from their graves, while the irreplaceable Michael Ripper provides the film's comic relief (what would have Hammer done without him), this time playing a village policeman.
When it was first shown in US theatres as the support to Dracula, Prince of Darkness (also available from StudioCanal), girls received free zombie eyes (glasses) while the guys got vampire fangs. The film was later told in comic form in a 1977 issue of the now collectable House of Hammer magazine. For me, it would have real bonus to have included a PDF of that comic as well as a pair of those zombie glasses in with the new release. Alas, we have only the pristine print to admire. Less admirable, however, is the out of synch sound that I noticed on the new release (is it the transfer or the original? If you know, let me know).
http://youtube.com/v/oynquOmh3SM The Reptile is set in the same 19th-century Cornish setting as Plague of the Zombies and also concerns aristocrats hiding dark and deadly secrets. Jacqueline Pearce – who meets a tragic end in Plague – takes centre stage here playing a young woman who turns into deadly lizard creature whenever aroused – payback for her father's dabbling with the dark arts while stationed in Malaya. Essentially a werewolf movie in a different guise, The Reptile, contains few shocks, but does makes for seductive viewing, thanks to a sensual performance from Pearce as the fraught Anna and the lascivious creature that she turns into. Pearce, who found fame in the 1980s in TV's Blakes 7, looks back on her time working at Hammer in her autobiography, From Byfleet to the Bush, published earlier this year (click here to find out more).
Both films were directed by John Gilling at Bray studios and on location at Black Park in Wrexham. Gilling, a famously mercurial director was also responsible for the superior horrors The Flesh and the Fiends (1960); as well as Hammer's 1964 swashbucklers, The Scarlet Blade and The Brigand of Kandahar (click here for my review). But Gilling is at his best with these back-to-back frighteners, which actually haven't aged that badly and are a welcome addition to my classic Hammer 'restored' collection.
Both releases are Double Play (Blu-ray and DVD) and feature new documentaries as well as episodes from TV's World of Hammer series.
Released 18 June http://youtube.com/v/rVszBcy-gxQ
Get the latest updates, reviews and unmissable series to watch and more!
Thank you for signing up to Whattowatch. You will receive a verification email shortly.
There was a problem. Please refresh the page and try again.