Pete's Peek | Revisiting Frankie Howerd's 1970s horror spoof The House in Nightmare Park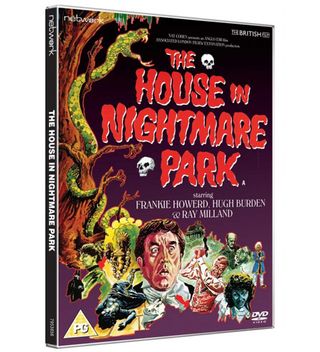 THE STORY In 1907, vain and clueless stage actor Foster Twelvetrees (Frankie Howerd) is invited to give a dramatic reading at a stately country house and discovers that he is heir to the family fortune and could provide a clue to the whereabouts of a stash of diamonds. But Foster's newfound relatives are a bunch of crazy eccentrics, and one of them is a killer out to claim the diamonds for their own. Will the hammy Twelvetrees run out of one-liners before its too late?
THE LOWDOWN Drawing on that old Bob Hope classic 1939 comedy Cat and the Canary and the popular Carry On's of the day, 1973's House in Nightmare Park (opens in new tab) – from director Peter Sykes (opens in new tab) (best known for the superior Hammer chiller Demons of the Mind) and writers Clive Exton (opens in new tab) (Jeeves & Wooster) and Terry Nation (opens in new tab) (Doctor Who) – was a feature film vehicle for British comedy legend Frankie Howerd (opens in new tab).
It's a riot of quotable dialogue ('Do you play by ear? No, I use my fingers'), where Howerd gets to do his trademark vaudeville shtick on the big screen for a change. The film's Old Dark House premise might be dated but Howerd's one-of-a-kind delivery really grabs your attention, as does the film's setting, the gothic Oakley Court (opens in new tab) in Windsor, which was popular choice of location for horror films of the period.
The wonderful Ray Milland (opens in new tab) is the other big name here, playing one of the sinister brothers out to claim the family fortune for his own. But he doesn't get to do much here, and is really only sinister when he's made up as a Raggedy Ann doll for the film's most bizarre scene, a weird musical act.
THE DISC The Network (opens in new tab) release includes a brand-new transfer from original film elements in its as-exhibited cinema aspect ratio, original theatrical trailer, London TV spot (an odd choice as its mute), and image gallery. A real bonus is the 30-minute music suite (opens in new tab) from Hammer horror composer Harry Robinson (opens in new tab).
Released on DVD 8 April 2013 http://youtube.com/v/GXFV2o3oydo
Get the latest updates, reviews and unmissable series to watch and more!
Thank you for signing up to Whattowatch. You will receive a verification email shortly.
There was a problem. Please refresh the page and try again.