Poldark's Jack Farthing: 'George is more powerful than ever!'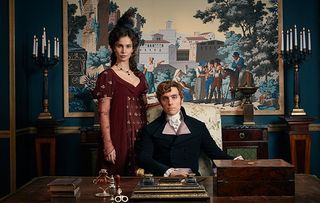 (Image credit: BBC/Mammoth Screen)
Poldark's Jack Farthing on baddie George taking his rivalry with Ross Poldark to London, why fans love his character and the surprises in store...
Poldark star Jack Farthing promises that there are lots of surprises in store as his character, the dastardly George Warleggan, continues his quest for power in the fourth series of the hit BBC1 Cornish saga.
Here Poldark star Jack Farthing tells TV Times more…
How is George this series?
Jack Farthing: "We left him in a pretty bad place at the end of series three, on the beach with the ground having shaken beneath him. We come to him at the beginning of series four post-recovery. He's got back to his life and things with wife Elizabeth are great as they've got past those seismic hurdles."
In last week's second episode, George's political journey suffered a set back when his arch-rival Ross Poldark [Aidan Turner] triumphed in the local election to take his seat as MP. Now, as Ross prepares to make his maiden speech in Parliament, George is busy trying to buy his way back in by purchasing a borough…
JF: "Politics is where George was heading from day one and he's finally got his foot in and it's a whole new world for him. He's definitely more powerful and influential than we've ever seen him. For all George's questionable morals, he's very good at his job – it's just he has a set of beliefs that most of us don't necessarily subscribe to. But he's really capable and just climbs and climbs…"
On his quest to buy a borough, George strikes up a friendship with charming but unscrupulous society figure Monk Adderley [played by Max Bennett]. How would you describe their relationship?
JF: "Monk is a wonderful character – he's bold and outlandish, which George would love to be. He was born with similarly lowly roots to George but he's surrounded himself with the most important people in London so George is like "This is the guy I need to talk to". They develop a partnership to their mutual benefit. Monk introduces George to new people and George helps him out with the odd debt, so it works."
How did you find filming scenes in London?
JF: "Those scenes have an epic feel, really cinematic. I do feel that George is a big fish in Cornwall and then he comes to London and he's a minnow! He's attending these parties and going 'Oh my God, look at the wallpaper!'. It's really nice to see George scrambling around again as opposed to telling people to get lost!"
We're guessing there will be lots more clashes between George and Ross this series?
JF: "Yes, there are some good clashes between them – those two just love each other! Ha! What's nice is that the rivalry has a different tempo and flavour this time because of them moving up in the world. It's not like bumping into each other in the street and losing their temper anymore. The more elite the circles that they mix in, the more they have to hide it."
What reaction do you get from Poldark fans to your character?
JF: "People are only very nice. I get lots of people saying how much they like him! Yes he is deeply questionable and not very nice, but there's a way into him because there are moments where you think 'Maybe he has had a hard time and maybe some things he went through weren't so great…'."
What's in store for George as this series progresses?
JF: "I wouldn't want to give anything away, but this series definitely goes up and down for George, and to say any more than that would do a discredit to its surprises…"
Poldark continues on BBC1.
Get the What to Watch Newsletter
The latest updates, reviews and unmissable series to watch and more!