Everything you need to know about new Poldark star Max Bennett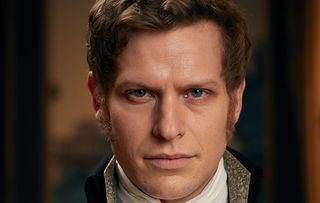 (Image credit: BBC/Mammoth Screen)
Poldark's Max Bennett on his joy at being Ross's new enemy Monk… his curious Poldark audition... and his love of playing bad boys!
Move over George Warleggan! There's a new villain set to rock Ross Poldark's world as disarmingly charming but unscrupulous MP and society figure Monk Adderley, played by Max Bennett, makes his much-anticipated debut in hit Cornish costume saga Poldark this week.
TV Times met new Poldark star Max Bennett on set in Bristol to find out more…
Tell us more about your interesting audition for Poldark…
MB: "I made my audition tape while my girlfriend and I were on a motorcycling tour of Scotland. I was in a hotel room in Edinburgh and I had a mini studio kit with me, as you have to have nowadays for auditions. I did a couple of scenes from the show with my girlfriend reading the script with me."
What's Monk like?
MB: "Winston Graham describes him in the novel as a wild, worthless rake. He's a noted duellist and a noted lover. He's also a great provocateur. Monk's bored with his life so he likes to work out what people's buttons are and push them, and Ross is one of those people.
"Monk's not from money, he's worked his way up to where he is, and he's a successful military man. In fact, he's of a similar background to Ross. He's the dark reflection of Ross and they both recognise that in each other and there's an innate animosity between them. George is always going to be the main rival but Monk certainly rubs Ross up the wrong way. And, yes, there might be a duel!"
He's a different type of nemesis for Ross [Aidan Turner] because he's super-charming…
MB: "Yes Monk's got that appeal. He's very much a society figure. He says himself that it's by his own ingenuity that he's got to the edge of aristocracy and that's by charming people and shape-shifting. He's very self-serving."
Why does Monk take an instant dislike Ross?
MB: "It's quite complex. He just likes to rile people up, it's not that there's anything especially about Ross. Monk also takes a shine to Demelza. She's very intriguing to him as she's a fish out of water in London and that's a lot of fun for him, and obviously she is beautiful. His flirtation with her doesn't go down well with Ross!"
Monk also becomes friends with Ross's life-long enemy George…
MB: "Yes, when Monk meets George he knows he has a lot of money so he looks to him to fund his lavish lifestyle in the same way George needs Monk's influence, and it grows into a friendship."
How do you feel about playing a character like Monk?
MB: "I enjoy playing bad guys! I do get cast as them quite a lot – I think someone is trying to tell me something! You just have to make them human and relatable. Monk's quite fun though, and has a lovely turn of phrase. I have a feeling audiences are going to love to hate him…"
How have you found joining such an established cast?
MB: "It's been great and really fun. It is honestly the most welcoming bunch. I share a mutual friend with Jack Farthing [who plays George] and I did youth theatre with Luke Norris [Doctor Dwight Enys], so it was nice to see familiar faces."
Do you enjoy wearing the period costume?
MB: "The costumes are amazing. We've based him on [Regency-era fashion icon] Beau Brummell, who was a dandyish figure, and Monk's style is shifting towards modern tailoring. In the previous adaption of Poldark, Monk was very flamboyant and quite foppish but he's more elegant this time."
Have you always wanted to be an actor?
MB: "Yes, from quite early on. My school had an amazing drama department. When I was 12, they did a big production of A Midsummer Night's Dream and they wanted somebody small to play Puck and I was chosen. We did it in verse and had the orchestra playing the Mendelssohn accompaniment and they hired costumes from the Royal Shakespeare Company. It was the most beautifully over-produced thing; it was great! I was sat there with all the Sixth Form girls backcombing my hair, thinking 'This is pretty good!'."
Poldark continues on BBC1 this Sunday at 9pm.
Get the What to Watch Newsletter
The latest updates, reviews and unmissable series to watch and more!