Prime Suspect 1973's Stefanie Martini: 'I didn't want to do an impression of Helen Mirren'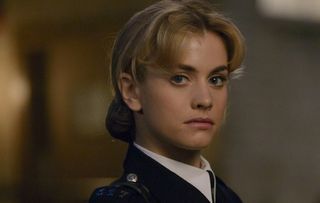 (Image credit: Amanda Searle)
Stefanie Martini on stepping into Helen Mirren's shoes in the Prime Suspect prequel
Stefanie Martini tells TV Times what it was like to play the young Jane Tennison in ITV's much-anticipated crime drama prequel Prime Suspect 1973...
How did you feel about getting the role? "I poisoned a few people to get it! No, I just screamed when I found out I'd got it and did a dance. I was in an airport at the time and it looked weird but I was so overjoyed."
Were you daunted at all? "It's an exciting challenge and I am just seeing it as a great opportunity. Potentially it's scary because if you have watched that character before then you'll have your own opinion but I am prepared for some people to love it and some to hate it."
Did you have a peep at the original series of Prime Suspect before you started filming? "Yes I did watch some episodes. This is a very different show but it's lovely to know where the character is going and to having to play with and I learned what I could from Helen Mirren's work. But then I just had to do my own thing, otherwise it would have been an impression. I've admired Helen for ages and I know that she is supportive of the project but I haven't had contact with her. How do you get in touch with Helen Mirren? Do you just ring her up?!"
So what is your take on the character? "People have always loved the character because she's a strong woman but she's not perfect, she's flawed and she can be unlikeable and cut-throat but that makes her real. In our story though, she has just started as a probationary WPC in Hackney and is very keen. Even though she has to make tea and do admin, she cares about her job and wants to do it well, but she doesn't quite have the experience and knowledge you see later."
Are there any clues to the woman she becomes in Prime Suspect? "There are little things where you see Jane having a drink and not knowing what to do, which is funny if you think about how she is later. But we also see that she absorbs everything to do with her first big case and that's what changes her and brings out her spark and steeliness. Hopefully by the end of the series, she's hardened a bit. She's becoming closer to the Tennison everyone knows."
The case involves a murdered prostitute, how does Jane get drawn in? "She invests a lot in it emotionally because she identifies with the victim as a young woman. It's not her place to be getting involved but she becomes obsessed. The other officers treat it more routinely but this is her first murder case and her first post-mortem and it's all very raw so she makes mistakes. She'll walk in on a meeting with CID, when she is supposed to be giving them cups of tea, and she'll just ask about the murder investigation. She doesn't go through the proper procedures and I love that!"
How does she cope with the sexism she faces? "In the original Prime Suspect she's accomplished a lot so she's got somewhere to fight from, because even though there's sexism, people respect her. But because she's at the beginning of her career here, she is not in a place to counteract it but she tries to beat it by being clever."
Did you do any research into policing in the 1970s? "Yes, this was the first year that women got integrated into the police force and did the same job as men so I had the policing handbook and I watched lots of documentaries and videos on YouTube of policing in Hackney. We had also had two lovely advisers who had been police officers at the time. I'd ring them up and ask, 'Am I wearing my hat at this point?' And they'd go, 'No!'"
What did you make of the fashions from the era? "Jane doesn't really care what she looks like and I'm in a dorky police uniform most of the time but when you see her at home or at the pub she's in collared shirts and really tight-waisted flared jeans. They were almost solid denim and hard to get into and getting a microphone in there as well was hilarious! The poor boys had so much facial hair too, for the four months we were filming, they had full-on sideburns and handlebar moustaches!"
Jane's colleague DI Len Bradfield (Sam Reid) spots her potential… Have you had any mentors in your career? "When I did Doctor Thorne I talked a lot to Tom Hollander about things and he was really supportive, as was Vincent D'Onofrio when I was doing Emerald City. I have been really lucky to work with people who guided me. My parents are always really helpful and supportive too and they are so happy I am in this!"
Prime Suspect 1973 airs on ITV, Thursday 2 March, 9.00pm
Get the latest updates, reviews and unmissable series to watch and more!
Thank you for signing up to Whattowatch. You will receive a verification email shortly.
There was a problem. Please refresh the page and try again.