Reece Shearsmith talks about his role as a wife killer in ITV's 'jaw-dropping' new drama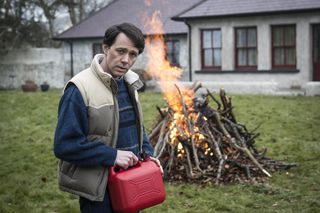 (Image credit: Patrick Redmond +353872600976)
Reece Shearsmith reveals the difficulties he faced in his latest role as murderer Malcolm Webster in ITV's chilling new drama, The Widower.
Sheridan Smith co-stars as Claire, Webster's wife who was murdered in September 1993, just eight months after her marriage to Webster.
"It's a jaw-dropping story," says Reece, 44. "Throughout Malcolm's deceit, he's so plausible. You might read about his case and think, 'How on earth did he get away with it for so long?'. But this shows how he managed it. That's the scary and important thing to remember. This actually happened and you see how he escaped the net for so long."
With his spending habits spiralling out of control and debts mounting, Webster, who worked as a nurse, drugged his wife and staged a car crash, setting the car alight with a comatose Claire still inside. The crash was deemed a tragic accident and Webster claimed from his late wife's life insurance.
He was not jailed for Claire's murder until 2011, when he was told he would serve at least 30 years in jail. He was also convicted of attempting to murder his second wife, Felicity Drumm, in a similar plot in New Zealand.
"All through his life Malcolm Webster was living beyond his means and felt he had the right to nice things, regardless of his ability to pay for them," added Reece. æIt got out of control. I think he thought he was far superior and cleverer than most people. Even now, he maintains his innocence."
Reece, who found fame as co-writer and one of the stars of the BBC2 comedy The League Of Gentlemen admits taking on the role of Malcolm came with difficulties.
"There was a great weight of responsibility when I took on this part. You really want to get it right for the people who are involved in this tragedy," he told the Daily Express.
"We shot the scenes where Malcolm kills Claire over a few nights and it was horrible. Seeing it acted out, with a car in flames and knowing that somebody had been inside, really hit home. It added to our determination to get this story out there and do it justice.
"As the story progressed Malcolm had lots of different women on the go and was deceiving them all. It became effortless for him to switch between all these different lies," he continues.
"He even pretended to have cancer, and shaved his head and eyebrows, claiming he was going through chemotherapy, to elicit sympathy. Can you imagine that? Pretending to have treatment in hospital, pretending to be weak and suffering afterwards and then keeping up that pretence for years? There are many layers of utter horror to him under the façade of a very mundane man."
The Widower was written with the victims of Webster's crimes in mind. His second wife, Felicity, was consulted about the scripts, as was Peter Morris, Claire's brother, and Simone Banerjee, with whom Webster also had a relationship.
"I spoke to Simone. She was great and had a fantastic attitude about the whole thing. She was happy to talk about him and help in any way she could," Reece says.
"This drama is not salacious - it's important to show what happened to people. It feels right that we've done it and I'm very glad that the people who were affected are happy - that's very important."
The Widower is a three-part drama and starts on ITV1, Monday 17 March.
Get the What to Watch Newsletter
The latest updates, reviews and unmissable series to watch and more!