Riviera star Adrian Lester: 'Monaco is a different world for the likes of you and me'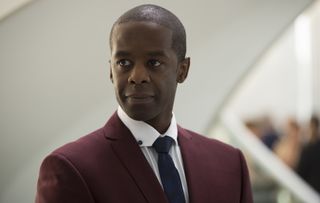 (Image credit: DESWILLIE)
Adrian Lester on playing shady characters and rubbing shoulders with the super-rich in the South of France for lavish new crime thriller Riviera
Adrian Lester is known for creating the ultimate con man in Mickey 'Bricks' Stone for BBC1's much-missed crime drama Hustle. But after steering away from similar roles over the past five years, the 48-year-old actor is excited to be back fooling the filthy-rich, famous and dangerous in brand-new crime thriller, Riviera, on Sky Atlantic.
Set in the dazzling French Riviera, the 10-part drama sees Adrian play suave art dealer Robert Carver, who rushes to help his old friend Georgina Clios (star of the Bourne films, Julia Stiles) when her billionaire husband Constantine (Without A Trace's Anthony LaPaglia) is killed in a mysterious yacht explosion.
As they begin to unravel Constantine's connections to art fraud and money laundering, they question if he was in fact murdered, and it soon becomes clear that Robert also has links to this criminal underworld. We spoke to Adrian to find out more…
How does your character Robert fit into this glamorous world?
"Robert trained in the same art class as Georgina so they have history together. He's an art dealer and she's a curator, plus they also had some sort of romantic entanglement.
"Georgina trusts him, and he would do anything for her, so when she thinks all is not what it seems with her husband's death, he offers his help willingly."
What's his position on the art scene?
"Let's just say that Robert is on the slightly shadier side of the art world. It's quite common for people who buy a piece of art to have a really good reproduction on their wall while the original is locked away in a vault somewhere. So he knows people who can produce forgeries, plus he knows how to break into places and steal things…
"So, yeah, he's a nice guy! It sounds odd but he is very trustworthy, and for Georgina, he's the kind of guy who would have your back."
How different is he from Hustle's Mickey Stone? Do you like playing these shady types?
"Ha! Yes, it's just like my life! There is a similarity between Mickey and Robert in the way they work the world, which is not necessarily lawful but they have a strong code of honour and a loyal team.
"But Mickey was much sharper and a real chameleon. Robert is just who he is, and when I took on the character, I thought I was far enough away from Hustle to do something that reminds you of Mickey."
Riviera is such a gorgeous-looking show, where it's set must have been a big attraction?
"Oh, the hills behind Nice and the Riviera coastline are stunning. There are worse places to work! But what really pulled me towards the show was being able to direct two episodes. That was a great experience, but so time-consuming, and directing myself was, erm, fun!
"It's not my first time directing, I did an episode of Hustle, too. But with Riviera, you have these sets that are designed by Mother Nature so you just have to point your camera and shoot."
Did you meet any of the rich and famous?
"It's a different world for the likes of you and me, and you can see part of that world when you go to the harbour in Monaco and see the massive yachts. There's a lot of money there.
"I didn't get invited to any yacht parties but I bumped into people who are worth quite a bit. I might have met the odd millionaire while out and about, but I'm trying to upgrade to a billionaire. Maybe on the next trip!"
All episodes of Riviera are available exclusively on Sky Atlantic and NOW TV from 15 June
Get the What to Watch Newsletter
The latest updates, reviews and unmissable series to watch and more!
Senior Writer for TV Times, TV & Satellite Week, What's On TV and whattowatch.com
Rebecca has more than 20 years' experience in journalism and is now writing about all things telly-related for TV Times, TV&Satellite Week, What's On TV and whattowatch.com (opens in new tab).
She's interviewed all sorts of big-name stars, including Al Pacino, Ewan McGregor, Tom Hardy, Winona Ryder, Benedict Cumberbatch and more. She's also been known to step in front of the camera, dressing up as a 1920s flapper to star in ITV's Mr Selfridge and co-hosting ITV News at Ten with Mark Austin – all in the line of duty!
When she's not quizzing actors, directors and producers, you'll find her bingeing US dramas and anything horror/sci-fi/zombie-themed. But her greatest love will always be Game of Thrones… just don't mention the ending!