Rocco and His Brothers (1960) | Luchino Visconti's revered masterpiece on Blu-ray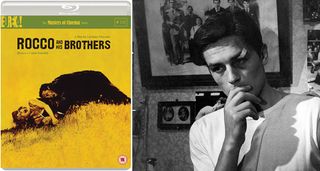 'Luchino Visconti's masterpiece can be experienced once again in all its fearsome beauty and power' – Martin Scorsese
From Eureka Entertainment comes the worldwide Blu-ray release of Luchino Visconti's 1960 melodrama Rocco and His Brothers.
When a tight-knit family moves from Italy's rural south to metropolitan Milan, the new possibilities – and threats – present in their fresh surroundings have alarming, unforeseen consequences.
Operatically weaving the five brothers' stories across a vast canvas, with an extraordinary cast including Alain Delon, Annie Girardot and Claudia Cardinale, Rocco and His Brothers stands as one of the most majestic and influential works of its era. And alongside Federico Fellini's La dolce vita and Michelangelo Antonioni's L'avventura, this epic study of family, sex, and betrayal ushered Italian cinema into a new era, one unafraid to confront head-on the hypocrisies of the ruling class, the squalor in urban living, and the collision between generations.
Eureka's Blu-ray, released as part of The Masters of Cinema series, features a HD presentation of the film from a new 4k restoration, plus a host of extras including documentaries on the film and Visconti, interviews with key cast and crew, vintage newsreels and trailer and a collector's booklet.
READ MORE… (opens in new tab)
AVAILABLE TO ORDER FROM:
Amazon http://amzn.to/1ZsRtXu (opens in new tab)
http://www.youtube.com/watch?v=sZsIhI1Z98U
Thank you for signing up to Whattowatch. You will receive a verification email shortly.
There was a problem. Please refresh the page and try again.