Rocky star Tony Burton has died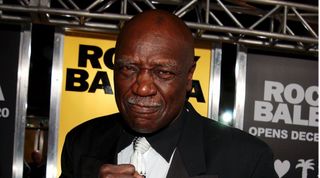 Actor Tony Burton, who starred as Tony "Duke" Evers in the Rocky franchise, has died at 78.
MGM Studios and his co-star Carl Weathers confirmed the news in tweets of condolence on Friday.
@E_Woodyard @TheSlyStallone Sad news. RIP Tony Burton. His intensity and talent helped make the Rocky movies successful. #BePeace
— Carl Weathers (@TheCarlWeathers) February 26, 2016
Rest in Peace, Tony https://t.co/l9pzR65eCc
— MGM Studios (@MGM_Studios) February 26, 2016
Tony's sister Loretta Kelley told Michigan's MLive that he had died at his California home on Thursday afternoon after being in hospital several times in the last year.
He is best known for his role as Apollo Creed's trainer Duke in Sylvester Stallone's Rocky franchise and appeared in the first six films.
Tony Burton starred as Apollo Creed's trainer Duke in the films (Picture Perfect/REX)
The Flint-born actor began his career as a heavyweight boxer and reportedly won two Flint Golden Gloves light heavyweight titles before briefly boxing professionally.
http://www.youtube.com/watch?v=ZZq753aYlc8&feature=oembed
Tony also starred in The Shining and had guest roles in TV shows such as Twin Peaks and Lou Ferrigno's The Incredible Hulk.
Get the latest updates, reviews and unmissable series to watch and more!
Thank you for signing up to Whattowatch. You will receive a verification email shortly.
There was a problem. Please refresh the page and try again.