Rollerball (1975) | Blu-ray review – Before The Hunger Games there was… Rollerball!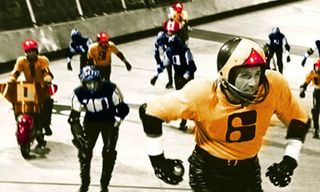 In a corporate-controlled future, conflict is a thing of the past, but blood continues to be shed on the tracks of Rollerball – a violent gladiatorial spectacle that pits players in a televised battle of life and death. When Houston Rollerball captain Jonathan E (James Caan) becomes bigger than the game and the totalitarian government targets him for retirement, the icon decides to make a stand against his masters…
Based on the 1973 Esquire short story, Roller Ball Murder, by William Harrison (who also wrote the screenplay), this big-budget United Artists sci-fi action directed by Norman Jewison was a flop in the US, but ran for almost a year in French cinemas and remains, amongst fans of 1970s sci-fi, one of the best of the era.
Intended to be a condemnation of brutality as entertainment, this surprisingly violent 'future sport' flick came out just two months after Death Race 2000, Roger Corman's live-action Wacky Races-styled exploitation drive-in movie, which ended up trumping Rollerball at the US box office (well, it was made for the fraction of the cost).
Rollerball's chilly Bafta-winning art direction and clinical cinematography was wholly inspired by European arthouse cinema and Stanley Kubrick's 1971 sci-fi A Clockwork Orange, especially in its use of Munich's modern architecture (like BMW's HQ, the Olympic Audi Dome basketball park, and the athlete's village) as a symbol of souless dystopia; while the use of classical music was another steal – and another reason to put off the popcorn crowd, but excite cineastes.
Jewison's sci-fi certainly has some well-executed action sequences, but US audiences just didn't 'get' its political agenda – as they were far more interested in actually playing the made-up game itself. Today, however, Rollerball's central themes are freakishly prescient, especially with regards to the power of corporations and the media on our way of life; the unreliability of digital information (I still think cloud storage is suspect); and our growing desensitisation towards violence. There's certainly a lot going on outside Jewison's roller track, which only makes this is one of the smartest sci-fi's of the 1970s and a 'future sport' flick that the likes of The Running Man and The Hunger Games remain indebted to. It's also far superior to that mis-guided, soulless 2002 remake.
THE UK BLU-RAY RELEASE The Arrow Video (opens in new tab) http://youtube.com/v/vvnctbktn0k
Get the latest updates, reviews and unmissable series to watch and more!
Thank you for signing up to Whattowatch. You will receive a verification email shortly.
There was a problem. Please refresh the page and try again.