Samara Weaving is our new favourite scream queen!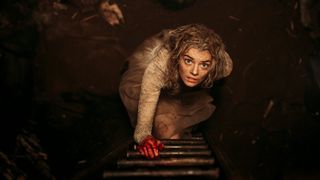 Ex-Home and Away star Samara Weaving turns killer bride for her latest role in hit horror comedy, Ready or Not alongside Andi MacDowell.
Ex-Home and Away star Samara Weaving is fast on her way to Scream Queen status!
Since leaving her role as Indi Walker on the long-running Aussie soap, Samara has starred in such frightful fare as TV series Ash vs Evil Dead, The Babysitter (as the beautiful but deadly leader of a demonic cult) and spooky Aussie mystery drama, Picnic At Hanging Rock.
But next-up, Samara is an armed and deadly bride in the horror comedy Ready or Not, and spends most of the movie running around in a wedding dress covered in dirt and fake blood!
https://www.youtube.com/watch?v=ZtYTwUxhAoI
"The fake blood is very syrupy," reveals Samara in an interview with GQ. "It's kind of delicious when it gets in your mouth, but getting it in your hair sucks. You're just getting progressively more uncomfortable and sticky through the day."
In Ready or Not, her character Grace enjoys a fairy-tale wedding to the wealthy Alex Le Domas (Mark O'Brien).
But as midnight approaches, Grace discovers she must take part in a long-standing family ritual. She must choose a card from a mysterious box and then agree to play what ever game is written on the back of the card.
At first, a game of hide-and-seek seems harmless enough. That is until Grace discovers she's in a fight to survive, since she's being hunted by her deranged in-laws, including Alex's brother Daniel (played by Adam Brody from The O.C) and her murderous mum-in-law, Becky Le Domas (played by Four Weddings and a Funeral star Andie MacDowell)...
SPOILER ALERT! Samara reveals things did not quite go as planned when she and Andi filmed a big showdown between their characters.
"We were rehearsing the fight and I accidentally hit her in the head with a stunt brick and she got a huge bruise on her head!" Samara told Nightmarish Conjurings. "When it happened everyone went so quiet because we didn't how cool she was going to be, like she's the best, but we didn't know that at the time. I was afraid for my job, I was scared she was going to leave, but she was such a trooper. She just asked for some ice and then we rehearsed it again, which thank God because that could have gone very differently!"
Ready or Not is released in UK cinemas on Friday 27th September
Get the latest updates, reviews and unmissable series to watch and more!
Thank you for signing up to Whattowatch. You will receive a verification email shortly.
There was a problem. Please refresh the page and try again.