Sarah Harding: 'MasterChef felt like my first day at school – I was really scared!'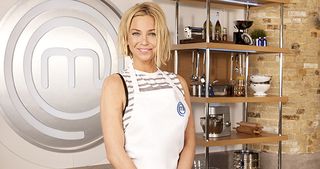 (Image credit: BBC/Shine TV)
The pressure is on as TV Times (opens in new tab) meet the first batch of stars stepping up to the hotplate for the 10th series of Celebrity MasterChef…
Former Girls Aloud singer Sarah Harding (opens in new tab) is certainly up for a challenge this summer. Not content with taking on the fearsome Tracy Barlow next month when she joins the Coronation Street cast, she's also putting her slicing and dicing skills to the test in 2015's Celebrity MasterChef (premieres BBC1, Thursday, June 19).
Was it scary walking into the MasterChef kitchen for the first time?
"It felt like my first day at school - I was really scared, but like they say, if you can't stand the heat, get out of the kitchen!"
Why did you want to take part?
"MasterChef's an opportunity you simply can't turn down, especially when you're as big a foodie as I am. I've loved spending time in the kitchen since I was little, experimenting with recipes and adding my own spin. I never get bored of cooking."
What kind of a cook are you?
"I'd say fairly good. Not the best in the world, but I've had no complaints!"
What's your signature dish?
"Probably my Spanish Chicken. I also love Italian food and do a good Spaghetti Bolognese."
How were your nerves on the first day?
"I was so nervous. I usually cook in my kitchen on my own, with my music playing, patio doors open and take my time, experimenting as I go along. I'd never cooked to a time limit or with people watching! It was daunting, but I got used to it."
How did you find John and Gregg?
"They're geniuses in the kitchen. You know they're there to judge you so you're wary at first, but nothing feels better than a bit of positive feedback from them."
Any notable disasters or triumphs?
"Thankfully nothing went too drastically wrong. I had a few clumsy moments, which I put down to nerves. I think it's only natural under that amount of pressure."
Did you learn anything?
"I learnt that with food the sky's the limit."
What's the MasterChef dream?
"You always enter a competition to win, otherwise there's no point in taking part. You'll have to watch to see how I do!"
Get the latest updates, reviews and unmissable series to watch and more!
Thank you for signing up to Whattowatch. You will receive a verification email shortly.
There was a problem. Please refresh the page and try again.