Sarah Lancashire: I'm back for more 'emotional brutality' on Happy Valley 2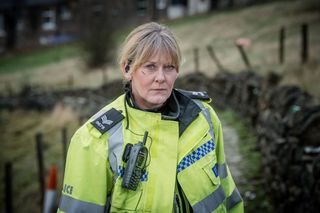 (Image credit: BBC/Red Productions/Ben Blackall)
Sarah Lancashire will be playing Sergeant Catherine Cawood once again as hit drama Happy Valley (opens in new tab) returns to our screens for a highly-anticipated second run on BBC1 (Tuesday, February 9).
We caught up with her to find out what lies in store in the new series…
How did you feel when writer Sally Wainwright approached you about a second series?

"We had a long chat about it, because we could've just left it. She convinced me there was more to tell so I put my absolute faith in her."
Is she hard to say no to?

" No, she isn't actually. Her storytelling comes from a very genuine place, so there's a lot of integrity behind it. If she didn't think it was worth revisiting, she wouldn't have done it. But I was nervous about it, saying I'm not sure we should be doing this. Well, I'm never sure, you just hope that we can equal the first series. "
You described series one as a brutal experience, how does this compare?

" Yes, it's the same. It's emotionally brutal. So clearly I came back for more! "
Did you expect the first series to be such a success?

" You know when a script is good, but you don't have any knowledge how visually it is going to look. When this came out and I saw the first episode and thought it was terrific. "
http://www.youtube.com/watch?v=QrFBNcLuSgY
Why do you think it struck such a chord with people?

" I would like to think that the piece as a whole, the characters, the story, were all so engaging and really captured people's imaginations. I also think that the production value is very high on this. "
Where do we find Catherine when the series begins?

" It is 18 months later, so Tommy has been in prison for a year and a half. He was charged with three murders so he is not coming out. Catherine finds a body in episode one and the rest of the series unfolds from there. "
Do Catherine and Tommy have two separate stories in this series?

" Yes, as Tommy is in prison. We don't strictly encounter each other in this series. We do meet, but our stories are kept quite isolated. "
There has been a lot said about the violence towards women in particular. What do you think about the violence?

" Catherine is a police officer and the violence she was subjected to in series one is what female police officers can be subjected to every day of the week. I would never condone anything which I thought was salacious, titillating, or gratuitous. If you replayed the violence from series one, what you think you saw you probably only heard because it was shot beautifully. It was an absolutely honest portrayal of what a female police officer can be subjected to. "
How does Catherine Cawood get on with other new members of the team, eg John Wadsworth (Kevin Doyle) and Jodie Shackleton (Katherine Kelly)?

" It is very interesting because they are CID. They have been brought into the building to investigate what appears to be a serial killer. She loathes Jodie Shackleton simply because she used to be CID and she knows how CID works. "
What sort of reaction have you had from female police officers?

" The feedback we had was that they had never seen a police officer portrayed accurately and that Catherine Cawood is a great portrayal of police officer. This is down to Lisa Farrand, who was our police advisor. She is retired from the force now, but she was a sergeant and whenever we do any sort of procedural stuff Lisa is with me. She takes no nonsense and gets on with the job. "
What kind of advice did she give you?

" The first thing she said to me on my first day was, 'You're going to have to man up!' I thought, 'Cow!' Yeah, she's very no-nonsense and gets on with the job. You don't look at her and think, there's a female police officer, you think, there's a police officer. "
Is this your proudest work?

" I don't know, I'm never proud of anything to be honest. I don't even watch it. "
Why don't you?

" I'm too critical, I will watch... the choices that I made or the performance level and it's disruptive. I learnt early on that its not helpful for me personally. "
Will you be nervous when it goes out?

" No, because there's nothing I can do about it. I'm not a neurotic mess, I make it sound like I am, but I'm very good at compartmentalising. "
Do you sneak at look at Twitter to get vibe?

" I couldn't do that! "
Feature writer for TV Times, What's On TV, TV & Satellite Week and whattowatch.com
Sean has been writing about all things telly for over 10 years and in that time he's been lucky enough to interview stars like Ian McKellen, Tom Hardy and Kate Winslet. His favourite shows are The Great British Bake-Off, People Just Do Nothing and Succession and in his spare time he enjoys drinking tea, doing crosswords and watching football.
Get the latest updates, reviews and unmissable series to watch and more!
Thank you for signing up to Whattowatch. You will receive a verification email shortly.
There was a problem. Please refresh the page and try again.