Sarah Lancashire teases insider details about C4's hard-hitting new drama The Accident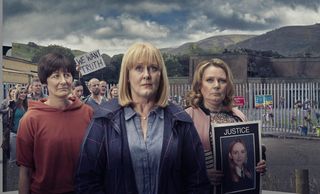 Happy Valley star Sarah Lancashire reveals the role written especially for her in C4's new hard-hitting series The Accident...
Sarah Lancashire is about to star in a new hard-hitting C4 series, called The Accident. It's been inspired by such real-life tragedies as the Aberfan disaster and the Grenfell Tower fire. BAFTA-winning Happy Valley star Sarah plays hairdresser Polly Bevan, who lives in the fictional town of Glyngolau with her husband Iwan (Chernobyl's Mark Lewis Jones) and their 15-year-old daughter Leona (Jade Croot).
The small, run-down town is looking forward to the opening of a new factory and the creation of 1,000 jobs. However, on the day of a fun run, there is a massive explosion at the site causing deaths and injuries. Rage spreads and the need to attribute blame for the tragedy splits the community.
Here, Sarah Lancashire reveals all about C4's The Accident…
Writer Jack Thorne told us he penned this drama specifically for you. Is that flattering?
Sarah Lancashire: "No, it's scary because that brings expectation. I think that's why they didn't tell me that until after we'd finished filming!"
So what's your take on The Accident…
SL: "It takes a huge tragedy and shows it through the eyes of those who are the most affected. The disaster impacts on the community in such a devastating way and, in trying to reunite the community, you go through many shifts."
What sort of person is Polly?
SL: "She is a fairly unremarkable woman and, before the disaster, she is rubbing along. But she fights for the underdog and gives voice to others."
Many of the relationships change throughout the series, don't they?
SL: "As they do in real life. For me, the drama reflects relationships and friendships in a truthful way that is rarely depicted on screen."
WHAT IS ON TONIGHT? Check out our NEW and improved TV Guide
What about Polly's relationship with her husband Iwan?
SL: "It is very complicated. The drama explores the co-dependency the couple have and what binds these two people together."
Did you have to do any research for the role of Polly?
SL: "Only for the Welsh accent. I did a lot of work on a Welsh accent – a lot! It was really challenging. We started filming this series in April/May and I'm horribly slow at learning accents, so I started learning last November. I had my Christmas dinner speaking in a Welsh accent! I don't use dialect coaches. I use YouTube and then I go and do my own recordings of people, so I went to the Valleys to collect accents."
Did you stay in the accent between filming scenes?
SL: "Yes, it's much easier to do that. My accent sounds Welsh to me but to a Welsh person it may not sound it!"
You seem to go from one powerful drama to the next…
SL: "I want to be clear: I don't search out the misery! I don't sit at home thinking, 'I can't wait to do another harrowing piece of work!' I choose the best of what comes along and I can only make my choices out of the opportunities I get. It has to be about the quality of the writing. You can do nothing without great writing – and writers like Jack Thorne and Sally Wainwright don't come along very often."
If you had a Jack Thorne or a Sally Wainwright script in front of you, would you be thinking 'yes' before you'd even read it?
SL: "No, because I'm not always right for the role. And, to be honest, part of your job as an actor is knowing when you're not right for a role."
We can't imagine anyone else playing Polly in this…
SL: "Oh, you see, I can! I can name at least five other people who could have played it, and then another five. I just feel very fortunate that something as brilliant as this has come my way."
* The Accident, starring Sarah Lancashire, starts on C4, on Thursday October 24 at 9pm
Get the What to Watch Newsletter
The latest updates, reviews and unmissable series to watch and more!