Scott Maslen: 'It was bittersweet competing with Natalie on MasterChef!'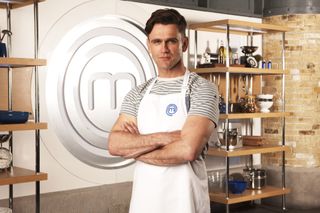 (Image credit: BBC/Shine TV)
Former EastEnders star Scott Maslen will be lining up in the heats of Celebrity MasterChef this week. We caught up with him to talk about his biggest culinary disasters and how Gregg Wallace and John Torode paired him up with an old friend!
Have you always been a big MasterChef fan?

"We've always watched the show because I do like to cook. My wife and son always tell me I should go on. They'll say: "You'd be good at that!" So when the offer did come in I had to take it to be honest! I couldn't say no!"
What kind of stuff do you cook when you're at home?

"Because I'm a vegetarian, I mess around with stuff. I'll try and make Bolognese without meat just to see how it goes."
Did being a vegetarian restrict what you could cook on the show?

"Not at all. I don't mind cooking meat or fish for other people. I came on the show to learn stuff and pick up tips, so I'd never restrict myself by refusing to cook meat!"
Did that surprise your fellow contestants?

"That's what I really wanted to demonstrate when I went on the show. You don't have to be the kind of non-leather wearing, animal-loving vegetarian. It's just a healthy option. If other vegetarians are offended by that then I'm sorry... but what can you do!"
It must have been a shock to see Natalie Lowe, your old dance partner from Strictly Come Dancing, when you walked into the kitchen for the first time!

"The producers don't tell you anything about the other people you're with, so it was a complete surprise! It was lovely to see Natalie again but it was one of those bittersweet things because you're in a competition against each other. Back in Strictly in 2010 we were together competing against others and she helped me out a lot! We weren't supposed to be helping each other on this but there were a few times when we'd whisper: 'Don't do that – use this!' to each other!"
You guys were in the professional kitchen together as well…

"We both really enjoyed it in there. She's like me, she likes to be engaged and challenged. The beauty of the show is that it's not really a reality programme like the others. You're learning something, which is great."
Did you enjoy your time in the professional kitchen?

"I loved it in that hot kitchen. It's lots of people's idea of hell, but you see these chefs in there and they look like they've done a marathon. They're active and aggressive, it's such a live environment! Having people around you that are that good is amazing as well. They're like a military organisation. When they're under pressure that's when they switch on and there's no time to mess up."
Was it nerve-racking serving up your dishes for MasterChef judges Gregg Wallace and John Torode?

"It was a bit scary, but if you watch the normal MasterChef or MasterChef: The Professionals you realise they go really easy on us! They've ripped people apart on those shows before!"
Scott Maslen appears in the fourth week of heats of Celebrity MasterChef, which start on Thursday July 9 on BBC1.


Sean has been writing about all things telly for over 10 years and in that time he's been lucky enough to interview stars like Ian McKellen, Tom Hardy and Kate Winslet. His favourite shows are The Great British Bake-Off, People Just Do Nothing and Succession and in his spare time he enjoys drinking tea, doing crosswords and watching football.
Get the latest updates, reviews and unmissable series to watch and more!
Thank you for signing up to Whattowatch. You will receive a verification email shortly.
There was a problem. Please refresh the page and try again.