Sewing Bee winner Matt Chapple: 'We smashed the stereotype that sewing is female only'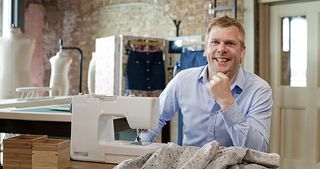 (Image credit: BBC/Love Productions/Charlotte M)
IT consultant Matt Chapple says he's as stunned as the rest of the nation that he's been crowned Britain's best amateur sewer.
"Anyone who's watched BBC2's The Great British Sewing Bee (opens in new tab) is going to be shocked I won," chuckles the 37-year-old, whose jaw-dropping avant-garde final dress trounced fellow finalists Neil Stace and Lorna Monje.
Here, Matt, who lives in Berkshire with his wife, Gemma, and six-year-old daughter, Evie, and three-year-old son, Max, tells us how winning feels…
Congratulations Matt – you're the show's first male winner!
"That's an honour in itself. Some of the other 'Bees' in the show have started calling me 'King Bee'. I think it's pretty cool that 4 of the 10 contestants were male in the first place and we certainly held our own. We smashed the stereotype that sewing is a female-only hobby."
You've broken the patchwork quilt ceiling!
"Ha – I like that! A lady's just written on Facebook that her nine-year-old son watched us and has decided to make something on her sewing machine. Isn't that brilliant? We're inspiring not just a younger generation, but lads as well."
When did you start sewing?
"When I joined the army at 16. They taught us how to sew our kit, shave, all the basics. But I only got the sewing bug about three years ago when we needed a curtain to cover a door. I thought, 'I'm not buying one, I could make it myself', so whilst my wife was at the pub I ran one up – bit of a role reversal!"
Did you keep your hobby a secret?
"I kept quiet about it and only told people once I'd applied for this year's show. There was a bit of mickey-taking, but I can't tell you how many blokes at work and in the pub wanted to discuss each week's challenges with me. They're all watching!"
Were you in it to win it?
"Strangely, I'm not competitive. I just like being creative, be it making a shed, a tee-pee, or clothes for my wife. It's all crafting. I just loved hanging out with the other Bees. We got on so well - it was awful losing people each week. By the time I got to the final I just wanted to do those that had left proud."
Patrick said you saved your best sewing for last..
"I'll always remember those words. I felt he was really proud of me. The avant-garde final dress was my favourite challenge, but also the most stressful. It was about engineering, stitching and structure and all my calculations had to work else it wouldn't stay up. I put every ounce of passion and energy I had into making it. It was extra special having my wife, Gemma, model it. I don't know if I'd have pulled it off without her being there."
Did you think you'd won?
"Not for a minute. I was expecting to hear Neil's name and was so ready to shake his or Lorna's hand! I was blown away. But I couldn't celebrate – it was all a secret! I watched the final with about 40 mates at our local pub. There's no hiding the fact I stitch any more!"
What's next?
"The day job continues. Gemma and I have got our own creative blog (opens in new tab), so we'll expand that and encourage everyone we can to get sewing!"
Get the latest updates, reviews and unmissable series to watch and more!
Thank you for signing up to Whattowatch. You will receive a verification email shortly.
There was a problem. Please refresh the page and try again.