Sid Siddiqui and sons explain what Gogglebox has done for them!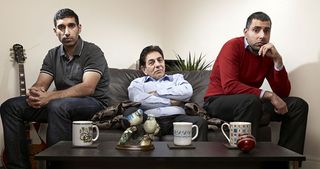 (Image credit: Jude Edginton)
Stars of Channel 4's Googlebox, Sid Siddiqui (opens in new tab) and sons, explain what being on telly has done for them…
How did you get involved in Gogglebox?
Baasit: "A friend I used to work with sent me an email saying that she was doing a new show. We'd never been on TV, but she had met my brother and said that we had a nice chemistry."
Sid: "I was slightly worried because of the exposure, but I didn't think it would last longer then one series or become as big as it has!"
Every fan has a favourite on the show – who do you like to watch among your fellow reviewers?
Umar: "It's weird being part of a show where you don't get to meet your fellow cast members, but I like Steph and Dom from Kent."
Baasit: "Yeah, it tends to be families that have a similar sense of humour to us. They all seem so genuine and nice."
Sid: "Exactly, if we pick a particular family the others might be saying, 'What about us?'"
Has being on Gogglebox changed your viewing habits?
Sid: "95% of the programmes are the kind of things we watch together. We love documentaries and news programmes, but some things are perhaps slightly embarrassing to watch with your children."
Baasit: "Oh yeah, like that stripper programme?"
Sid: Yes, "I mean we are fairly open-minded, but erm… what do you think Umar?"
Umar: "Some of them are awkward. I remember some of the references when we had to watch American Pie were pretty embarrassing."
You all seem very knowledgeable about a variety of subjects, would you ever consider competing together on a quiz show like Family Fortunes?
Sid: "I would love that. In fact we were discussing it the other day, but my general knowledge is absolutely rubbish!"
Umar: "Yeah, we do love a quiz show."
Baasit: "We're not very good at them, but we do love them. Plus we all look much better standing up behind desks then we do sitting on the sofa!"
As a pastime, watching television gets a fair amount of criticism, but do you think it can be a positive thing?
Baasit: "Definitely, TV has always been a big part of our lives. When we were growing up it was really nice coming home and watching TV with the family."
Umar: "Anything that encourages discussion and an open exchange of feelings is a good thing. There are some people that sit in front of the TV but don't really watch though."
Baasit: "Yeah, my wife's like that! She's usually on her mobile, but I get a really good discussion when I watch television with you guys."
Sid: "Exactly, the point is people always moan about you sitting round and watching TV but times have changed. Family dynamics have changed too and the TV is better then mobile phones…they are much more antisocial."
George Gilbey left the show to go into the Big Brother house. If you were to be on a reality show, which one would you choose?
Baasit: "Dad, you can answer this one."
Sid: "That's because I am the only one who says these things out loud! They think it, but I say it and sometimes I get into trouble. Anyway, I would love to take part in I'm A Celebrity... Get Me Out Of Here!"
Baasit: "Dad says he would love to take part, but he couldn't, I mean even if he has a bit of chicken and thinks it might be raw he won't eat it!"
Sid: [Laughs] "As long as the chicken is Halal I don't mind."
Finally, the current must-see family show is The Great British Bake Off. Is that one you watch together?
Sid: "I love it! All of us do."
Umar: "I am not a big fan of Mary Berry though. Last time we watched the show I was rushed to hospital because I over-indulged on some nuts and found I had a slight allergy. Then prior to that when we watched the show the power went out just before she came on!"
Baasit: "Umar did have a bit of a crush on Mary Berry for a while. That was a bit hard to watch…"
Gogglebox returns to Channel 4 on Friday, September 26
Get the latest updates, reviews and unmissable series to watch and more!
Thank you for signing up to Whattowatch. You will receive a verification email shortly.
There was a problem. Please refresh the page and try again.