Silk's Rupert Penry-Jones: 'I asked the creators to be more emotionally involved'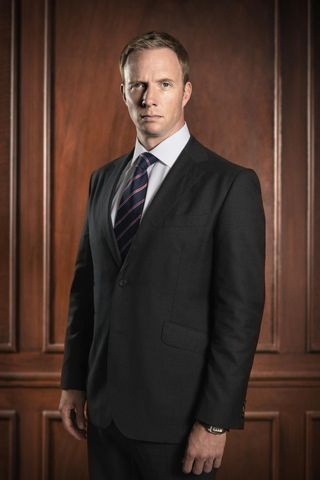 Rupert Penry-Jones is back at the bar once more for a new series of Silk, which premieres on BBC1 on Monday, February 24 at 9pm.
TV & Satellite Week put him in the dock to find out more…
Your character, Clive, gets silk and becomes a QC in the first episode, how does that affect him?
"He is finally able to go up against Martha [Maxine Peake] on an equal footing now and he has more confidence in himself because he is not trying to prove himself as much, but things still don't go his way often."
What is his relationship like with Martha now?
"He is more grown up, he is not trying to sleep with everything that moves, he is more selective and very much in love with Martha to begin with and he suddenly makes this declaration to her. It is out there then and they have to deal with it, but then it is about the realisation that maybe it is not going to work and he has to get on with his life."
Has he got a new wig now he is a QC?
"No he hasn't! I think they lost my wig from the first series that I liked, but I have got a new silky gown and little waistcoat."
What is the main arc this series?
"There is a battle over what kind of chambers they're going to be. It has always been prosecution and defence, but now Billy, the chief clerk, played by Neil Stuke, wants it to be a defence set and he teams up with Martha, while Harriet, the new practice manager, played by Miranda Raison, teams up with Clive as she sees that prosecution is where the money is. It is great for Clive because Billy always gives Martha the best cases, but now there is somebody there fighting for him as opposed to feeding him scraps. But the dynamics are about who'll win out."
Are there any other new characters?
"Yes we have a new pupil Amy Lang, played by Jessica Henwick. She becomes a pawn in the politics of the chambers because she is the swing vote and both sides vie for her affections and she gets confused about people's intentions."
There is a controversial case this time about a mother who is accused of helping her paralysed daughter commit suicide. How does Clive deal with that?
"Clive believes she is guilty of murder, but he tries to have more morals and gets more emotionally involved this time around though. I specifically asked for that from the creators because otherwise there is not drama there and it felt one-sided if Martha always gets emotionally involved, but Clive doesn't. It has resulted in Clive being a bit less cut-throat, but he has still got that nice edge to him and he still sees things in black and white a lot of the time."
Could Silk continue for a fourth series after this?
"It's a courtroom drama so it could go on and on and there is a whole echelon of stuff we could go into, but it will be interesting to see what people make of this series because the way it is left, we as a cast aren't sure whether it's been written as, 'This is it', or whether it's got more to come because it feels like everyone gets blasted in different directions at the end of this series, so maybe the writer has thrown a grenade in and blown the whole show up. But it will very much depend on how people react to it."
Do you prefer the scenes in chambers or in court?
"When you have the whole cast there, I think the scenes in chambers are the most fun, there is a lot of messing about and we have to be told to pull it together. The courtroom stuff is tough because a lot of times you are not with the regular cast and you are sitting in a corner for ages. I think I've got a picture of virtually every member of the cast in court at some point asleep because we do two episodes at a time so we're in court for two or three weeks solid and it just makes you want to kill yourself."
Have you ever done jury service?
"I've always been filming when I've had to do jury service and when they've come back to me I have been filming again. I think if they come back again, I'll have to do it, but they might wait 20 years or so. My mother did it in her late 60s."
Do you get much fan mail for Silk?
"I have got a lot of it that I haven't actually opened yet, I keep it and when the mood takes me I plough through it. To be honest the Silk fans don't write in, my fan mail is much more Whitechapel-based, they are more hardcore fans."
Were you disappointed that Whitechapel was axed?
"I was, we deserved to carry on because we came up with such a great idea so it was a shame not to finish it off with even just a two-parter to explain what was going on. Unfortunately, they put the last series out in the summer holidays and as a punter I wouldn't want to watch Whitechapel in the summer so we didn't get off to a great start and viewing figures are what it is about and it is not one of those shows that people want to watch on their own so we suffered."
Would you like to do more Shakespeare?
"I would love to do more Shakespeare, that's where I started. Coriolanus is a part I've always wanted to play, but they've just done it at the Donmar in London so that won't be for a while. As You Like It I've been thinking about too, but there's not one that I wouldn't want to do."
Ever considered heading to LA?
"I was out there at the end of last year meeting people. The thing about LA is that the TV they make is the best in the world, so if you want to be in one of those shows, you've got to go to LA, but I don't like the way the place makes me feel. You go out to California and unless you're a movie star, you feel like a failure and I don't like feeling like a failure. But if they come calling me, I would certainly give it a go. But I'm not going to go banging on doors, it's just too demeaning and humiliating."
You're passionate about dolphins, would you like to do a show to raise awareness of their plight?
"Yes I would, I love the sea and I love swimming, and there's just something about dolphins that I've always adored. I saw a film called The Cove, which upset me so much because every week, dolphins are being massacred in Taiji in Japan, which is a very scary place. They are killed barbarically for money and their meat is sold even though it is unhealthy because it's full of mercury. I know I should be doing things maybe to do with the human race, but that interests me far more."
Get the latest updates, reviews and unmissable series to watch and more!
Thank you for signing up to Whattowatch. You will receive a verification email shortly.
There was a problem. Please refresh the page and try again.