Sir Ian McKellen: 'The reason I did The Dresser was to be in Anthony Hopkins' presence' (VIDEO)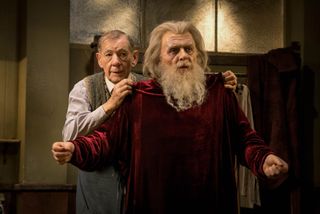 (Image credit: BBC/Playground Entertainment/Jos)
Ian McKellen and Anthony Hopkins are two of our greatest actors, with a knighthood apiece, but they have never worked together before. That's all about to change with BBC2 drama The Dresser (Saturday, 31 October), which explores the relationship between troubled actor Sir (Anthony) and his fussy dresser Norman (Ian) during an eventful night backstage at a theatre during the Blitz.
What's On TV caught up with Ian, who told us that working with Anthony was the major draw of the piece.
"It was bliss, that is the reason I wanted to do it so much it was just to be in his presence. It is a thrill watching a great actor at work, I know that from having worked with Martin Freeman on The Hobbit or with Meryl Streep in a film or with Judi Dench, you get closer to them than any audience and they encourage the best out of you."
He continued: "I have known Anthony slightly but we have never worked together and this was ideal because it was in a world that we both knew and have a great affection for and we had a lot of laughs."
Watch the whole interview with Sir Ian McKellen, above."]
Get the latest updates, reviews and unmissable series to watch and more!
Thank you for signing up to Whattowatch. You will receive a verification email shortly.
There was a problem. Please refresh the page and try again.