Memory tips - Six AMAZING tips by World memory Grandmaster Mark Channon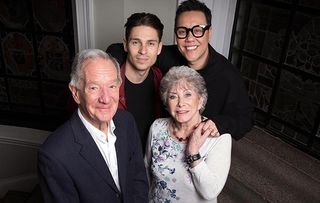 (Image credit: Ed Miller)
World memory Grandmaster Mark – who memorised more than 700 random numbers in the World Memory Championships – shares his tips to help instant recall as he features in a new C4 show. Mark's memory techniques impress Michael Buerk, Gok Wan, Joey Essex and Valerie Singleton
Michael Buerk and memory guru Mark Channon on how their one-off quiz can help us all be better at remembering things…
Have you ever forgotten someone's name just seconds after being introduced?
Spare a thought, then, for stylist Gok Wan (opens in new tab), Blue Peter legend Valerie Singleton and TOWIE's Joey Essex (opens in new tab) as they attempt to learn hundreds of facts on unfamiliar subjects for a one-off C4 programme, Can I Improve My Memory?
Using special memorising techniques, memory guru Mark Channon will help Gok get to grips with the Periodic Table, Valerie acquainted with UK grime music, and Joey swot up on William the Conqueror.
Then, after two weeks, newsreader Michael Buerk puts the trio to the test in front of a studio audience.
Here Michael, 73, and Mark, 47, tell TV Times more, and Mark reveals his top memory tips for boosting total recall…
How would you sum up the show?
Michael: "The premise is that we can improve our memories out of all measure, whatever our age or whoever we are, by doing several simple things."
Mark: "I introduced Joey, Gok and Val to simple techniques, such as memory palace. They went off and practiced at home. But learning new skills never goes smoothly, so I checked in and coached them through the two-week process."
How did they get on?
Mark: "The topics were most definitely not their favourite topics so it was challenging! Gok's naturally creative and the techniques worked well for him. His challenge was time and how to fit it all in. Val's super dedicated and really sharp, but what can happen at any age is resistance to a new challenge. Joey's biggest challenge was motivation. For added inspiration we went to a castle and he created a memory palace for William the Conqueror."
Michael: "Beforehand I'd only heard about the techniques sketchily and was a bit sceptical. Val is the world's leading expert on grime music now! Research chemist could be Gok's new career. And Joey comes out with impressive stuff about the Bayeux Tapestry. Both Gok and Val are extraordinarily competitive, so it's a clash of the titans. It was a really good laugh when we filmed at The Law Society in Chancery Lane but there was also a high level of tension in the air."
Why does memory matter?
Michael: "Our memories are a fundamental part of who and what we are. It's odd really that no one gives us any specific training on how to maximise our memory. There are a lot of people my age doing cryptic crosswords to keep the brain from atrophying, but this seems a bit better to me."
Mark reveals his top six memory tips for instant recall
1. Find a purpose
"It's important to know why you specifically want to improve your memory," says Mark. "Is it to learn a new language or for an exam? Once you've established that your motivation will go up, you'll be more interested, and learn faster."
2. Focus on the now
"Practising on focusing can be as simple as being mindful of your breath for a few minutes. You'll see the difference when you're introduced to someone and remember their name. It's about being present and really listening, rather than thinking about what's in your head."
3. Make facts fun
"Turn facts into visual images to make them stick. We remember funny, rude or weird ones much better than dry facts. Grime slang for 'a lot of' is 'bare', so I had Val visualise a bear with a basket full of lots of things!"
4. Build a memory palace
"This technique taps into both visual and spatial memory. The way it works is you go into a room, choose items in the room and place information in those places. You're creating a visual space hung with memories."
5. Cause a chain reaction
"I teach the celebrities how to remember 25 objects, including a toothbrush, sparkly shoes and an umbrella, using the chain method by linking the objects in a clockwise direction. For example 'a woman wakes up, brushes her teeth, puts on her sparkly shoes and trips over her umbrella".
6. Practice!
"Practicing recall doesn't mean reading things over and over. Visual images nudge a memory. What does the image of an elephant with the number 60 mean? That's 60 chemical elements in the human body. Elephant = element. Every time you recall a memory it gets stronger. Find ways to make it part of your daily practice. Start off very slowly and build it up."
Don't miss Can I Improve My Memory? on C4, Friday 22 March at 8pm.
Interviews by Tess Lamacraft and Elaine Reilly
With twenty years of experience as an entertainment journalist, Elaine writes for What's on TV, TV Times, TV & Satellite Week and (opens in new tab)www.whattowatch.com (opens in new tab) covering a variety of programs from gardening and wildlife to documentaries and drama.
As well as active involvement in the WTW family's social media accounts, she has been known to get chatty on the red carpet and wander into the odd podcast.
After a day of previewing TV, writing about TV and interviewing TV stars, Elaine likes nothing than to relax… by watching TV.
Get the latest updates, reviews and unmissable series to watch and more!
Thank you for signing up to Whattowatch. You will receive a verification email shortly.
There was a problem. Please refresh the page and try again.