Something for the Weekend: Winona Ryder's Stranger Things, Cuckoo and Transparent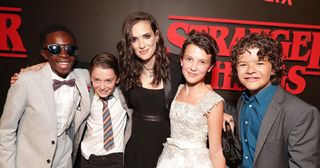 (Image credit: REX/Shutterstock)
Stuck for something to watch this weekend? Sit back and enjoy streaming standouts Stranger Things (Netflix), Transparent (Amazon Video) and Cuckoo (BBC iPlayer)
If you think telly is a bit lacking over the summer, have a peek at these top shows available on streaming services Netflix, Amazon Video and BBC iPlayer…
Stranger Things (Netflix) (opens in new tab)
Something wicked this way comes… to Netflix. Highly anticipated supernatural thriller series Stranger Things is available on the streaming service now!
https://www.youtube.com/watch?v=HfQXcV4a8HU
Leading the cast of the spooky eight-part drama, which centres on the small US town of Hawkins in 1983, is Winona Ryder - the Hollywood star who made her name in 1980s dark comedy classics Beetlejuice and Heathers. Her character, struggling single mother Joyce Byers, has her world turned upside down when her 12-year-old son, Will, suddenly disappears. As the vanished youngster's pals launch a quest to find him, the small Midwestern town in which they all live is rocked by strange, supernatural events that will change their lives forever…
Transparent (Amazon Video) (opens in new tab)
The third series of this award-winning US comedy drama is expected later this year, so now is the perfect time to catch up with the first two series on Amazon Video.
https://www.youtube.com/watch?v=Xclds2kDf0g
The story revolves around Los Angeles family the Pfeffermans. Former college professor Mort (played by Arrested Development star Jeffrey Tambor) is keeping something from his three adult children and former wife – he's transitioning to life as a woman, Maura.
As the series progresses, Maura embraces her journey, coming out to her family, making new friends and joining a new community. As the rest of the Pfeffermans adjust to the new dynamic in their family, it turns out Maura's not the only one with insecurities to overcome, battles to face, and secrets to be spilled…
Series one of this Bafta-nominated BBC Three comedy saw married couple Ken (Greg Davies) and Lorna Thompson (Helen Baxendale) rattled when their daughter, Rachel, returned from her gap year travels married to eccentric American hippie 'Cuckoo' (Andy Samberg).
In series two, Cuckoo is gone, presumed dead while on a trip to Nepal, and life for the Thompson family is slowly getting back to normal – until a young American called Dale (Twilight's Taylor Lautner) turns up claiming to be Cuckoo's son.
https://youtu.be/-WrQcUSzjqw
Series three, which is available to watch now as a box set on BBC iPlayer, sees Dale throwing more spanners in the family works, Rachel wrestling with her love life, teenage brother Dylan (Tyger Drew-Honey) starting university life, and Ken and Lorna contending with another unplanned arrival – a new baby!
Get the What to Watch Newsletter
The latest updates, reviews and unmissable series to watch and more!