Are Spiro and Louisa FINALLY going to get together in The Durrells? Spiro star Alexis Georgoulis: 'I want them to be together!'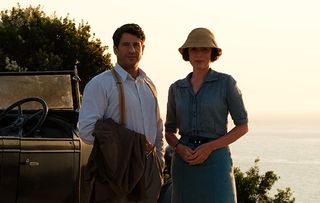 Star Alexis Georgoulis tells us why romance may finally be on the cards for Spiro and Louisa…
There's one big problem with The Durrells. None of the love interests knocking on Louisa's door can hold a candle to family friend - Spiro, the kindly taxi driver who has taken the family under his wing.
Up until recently they couldn't even contemplate a romance as everyone thought Spiro was happily married (including Spiro!). But now that his wife has walked out on him, could love finally be on the cards?
And if they did become more than just good friends, what would the demanding Durrell children make of their mum Louisa (played by Keeley Hawes) paying attention to someone else for a change?
Here, in an exclusive interview with TV Times, Greek superstar Alexis Georgoulis, 43, who plays Spiro in The Durrells, reveals whether their friendship could turn into flirtation…
Spiro is shell-shocked when his wife walks out, isn't he?
Alexis Georgoulis : "He's lonely because his wife has taken the children to Athens, the house is empty and he doesn't have a clue if they're going to come back or if he's getting a divorce. It's the biggest shock for him – his children are his life."
When does Spiro notice the romantic possibilities between himself and Louisa?
AG: "Well, now that his wife has abandoned him, the barriers between Louisa and Spiro are not that high. There's a great attraction there, they get much closer because his life feels so empty and she might be the right person to fill that gap. There are some romantic moments, and some funny ones, but I can't tell you how close they end up getting!"
Do the Durrell children spot this chemistry between them?
AG: "Yes they have always seen it – one of Spiro's first ever scenes with Louisa was with one of the children telling her to marry him! They've always had the feeling that Spiro is very compatible with the family."
Do you want them to get together?
AG: "Yes! I think Spiro belongs to this family, so I feel very comfortable with this path. They have always greatly appreciated each other and you can't help but feel that they are made for each other. Also, as an actor, I think Keeley and I have always had great chemistry. She's a very nice, fun and professional person, she's so helpful with everything from learning lines to how to create your character. Keeley is our leader on set and she's created a wonderful atmosphere.
What do you think Spiro and Louisa would be like as a couple?
AG: "They would have arguments and fiery moments because of the person Spiro is. But I think in their hearts they're very alike – the attraction comes from the core. Even when they're arguing and have different opinions, like with the situation with the Ferrari family, you don't get the impression anything will break them."
You've had a hugely successful career in Greece. Are you enjoying life on a British drama series?
AG: "I have a great time on the show, even when my friends come, they hang around while we do the shooting and they're very happy. They say I haven't looked that happy for a long time. I really enjoy the show and even when we're in London it's great, shooting in the studio is like travelling back in time because it's set in the 1930s. So I'd say I love The Durrells, I love shooting the show and I'd like to do it forever!"
The Durrells continues on ITV.
Get the What to Watch Newsletter
The latest updates, reviews and unmissable series to watch and more!