Stephen Moyer stars in ITV's Safe House: 'There are still moments I can't believe I get to do this for a job!'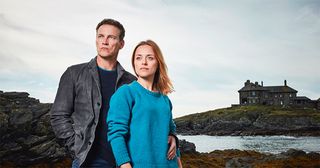 The star of hit US vampire thriller True Blood, Stephen Moyer, has returned to Britain to lead series two of ITV's crime thriller Safe House
With Christopher Eccleston gone, Stephen Moyer is leading a brand new cast as ITV thriller Safe House returns. He tells us about shooting on the edge of Britain, dealing with True Blood fans and splitting his life between London and LA...
What did you like about Safe House? "Tom Brook on the surface is a solid, confident, happy man. But there is something lurking under the surface from his past that he has managed to hide. Having been a police officer, he's now helping to run a safe house and has reinvented a new life for himself. That's as close as he's getting to police work. He and his partner are also running a little sailing school and that's paying the bills.
"But he's almost like a sleeper agent. He's living his life and he's fine. Then he catches a piece of news that brings something from his past back into his life. It's almost like he's been switched back on and he cannot stop himself from becoming active and alive again. I was really drawn to the idea that we have ghosts in our machinery, that we think we are somehow cured from. And yet along comes something that changes perception."
Christopher Eccleston played the lead in the first series, did the fact that it's a new character rather than previous character appeal to you? "Yes, I think so. I'd read it originally and then wasn't available anyway. Because I knew they were doing something new and different it didn't feel you were following in anyone else's footsteps and it felt like a chunky new idea. There's a lot going on in those scripts and it's a very thriller-oriented, well-written well-structured thing."
Safe House has a stunning opening sequence... "Our director Marc Evans directs films so the opening sequence is not what you'd expect to see on a TV show. It's like a film. I couldn't believe what we did. I had a couple of sailing lessons, they put me in the boat with Zoë Tapper, who plays my partner Sam, and they set us loose... a drone followed us and filmed us as we sailed out to sea.
"I still pinch myself sometimes because what I get to do for my life, for my job, is such a privilege. And there are moments when you rise above yourself and look down and go, 'I can't believe I get to do this.' We were in this beautiful 1920s wooden sailing boat. That opening sequence is incredible."
Did you have any sailing experience before this? "I lived on a boat for seven years in Little Venice in London. Although obviously that was not a sailing boat. My one bit of sailing experience prior to this was in Italy in 2008 where I went out to sea in a catamaran with my two older kids, got caught in a gale and had to be rescued.
"Everybody who was out that day, even the experienced sailors, were just all over the place. I was trying to get back to the shore and got caught in this thing. The kids were smiling and laughing and thinking I was totally in control. But actually we were careering out to sea.
"A speedboat was ferrying all the stragglers back and they came and rescued us. We then had a 50mph ride back to shore in the wind with all of us leaning on the side. The kids don't remember anything about it. They don't even remember getting on the boat. I'm quite glad they don't remember this genius bit of parenting."
You end up in the sea at one stage later in the series... "Water has followed me around all my career. I had to fight underwater in full armour in Prince Valiant and dive into a sewage infested sea in The Lord of Misrule. In Waking The Dead I played a murderer who was obsessed with water. There's a lot of water. So it was no surprise to see it in Safe House.
"The weather also behaved during filming. We had about four days of rain in nine weeks. That's not bad. We had a lot of bright sunshine both in Liverpool and Anglesey. Pretty breathtaking."
Safe House was filmed in Liverpool, Manchester and Wales, including Anglesey. Do you have a particular past history with Wales? "We filmed The Bastard Executioner in Wales in 2015. And 20 years ago my very first feature film was the one I mentioned earlier, Prince Valiant, with Katherine Heigl, Joanna Lumley and Edward Fox. I was playing the lead and staying in a little cottage in Anglesey. So it was really lovely to be back there. It's stunning.
"When I went back to Wales in 2015, my wife, Anna, and I moved the family into this cottage in a beautiful little village called Cowbridge. We brought my dogs Dave and Banjo over. We just had this extraordinary summer and fell in love with Wales. I can guarantee if that show had gone again we would have bought a cottage there. Because the people are just lovely. So the fact we were doing the second part of this shoot in Wales made me very happy. My dogs have also been here again for Safe House – they speak fluent Welsh now."
What did you make of the location for the safe house? "It's pretty amazing. It's been in the real owners' family for about 110 years. It's a foreboding place. But it doesn't feel like that when you're inside. It has an almost 270 degree view because it's out on this promontory and has its own cove. Anna asked me what I wanted for my birthday and I said, 'I want my own cove. Why haven't I got one?!'"
You've mentioned your actress wife Anna Paquin, who co-starred with you in True Blood. Was she able to come over to the UK during filming of Safe House? "Sadly not. She has been busy being a mum for the last few years after the birth of our twins, but went back to work in 2016. We never intended to both be working at the same time. But I'd already said yes to this role. And then she got two roles, which she really couldn't turn down, back to back in Canada. So I just said to her, 'There's no way you're not doing them. It's complicated, but they are both great parts. We'll work it out and it'll be fine.'"
Safe House comes after your success in America as Bill Compton in True Blood. But when you're working over there do you vanish from the radar of UK producers and casting directors? "I don't know if that is the case, but it certainly feels like it! Out of sight out of mind very much seems to be the case. I've been very busy and continually doing stuff in the US, but I'm always looking for things in the UK.
"I'd worked with Jill Green and Eve Gutierrez of Eleventh Hour Films 15 years ago. We've looked to work together again a number of times. So every time they got something interesting over the years, they have sent it to me. There are a couple of times where we've almost collaborated, but it's not worked out. And then Safe House came up."
Although based in LA you also have a house in London. Can you feel at home in both places? "We do, yes. It's a really strange thing. When I get to London I put my feet up on the coffee table, I make a cup of tea and I feel like I've finally arrived home. And then when I get back to America I put my feet up and make a cup of coffee and I feel at home. It's so strange, I never knew I could feel at home in both places. But what I've learned is, I drink tea in London and I drink coffee in America. That Sociology A-level didn't go for nothing."
What's the recognition factor like for you now when you are back in the UK? "It's really interesting. You find it in America too. Sunetra Sarker (DCI Jane Burr), Ashley Walters (John Channing) and myself were all standing outside having a coffee in Liverpool. Somebody walks past who doesn't know who all three of us are. Has no clue. And then somebody else will come past and will know Sunetra from Strictly Come Dancing. Not from Casualty. Or somebody knows Ashley from Hustle. Not from Top Boy.
"I had an incident the other day where somebody had just seen my Waking The Dead appearance from 2005, saw me in a restaurant and was freaked out. They thought I was a killer or something. They couldn't remember how or where they had seen me, but they reacted to me like I was going to kill their puppy. Then you'll have somebody walk past and can't believe Bill from True Blood is sitting in a cafe in Anglesey.
"So it really is dependent on people's watching patterns. It's all about viewer habits. It becomes about what people watch and know you for. Sometimes you'll have a day where you're completely unrecognised and then another day where every single person recognises you. It's absolutely random. If I go into a room of True Blood fans it's amazing. You'd be mauled. But if I go into a room where nobody has got Sky or HBO then they probably haven't seen it. It's that simple.
"I went out for dinner in Los Angeles with a friend and sitting at the table next to us were a rabid bunch of True Blood fans. It was lovely because they just couldn't believe it. And the table next to them are like, 'Who the hell is that?' They had no idea."
Has the advent of mobile phone cameras and the 'selfie' culture compromised privacy for those with 'famous faces'? "Yes. Anna and I are very private with the babies and my older kids. When True Blood was massive and still on the air, it was kind of nuts. People would come up to us in supermarkets or coffee shops, or wherever all the time. We're fine with it as long as they don't take pictures of the kids. Because they haven't chosen this life. I'll quite happily take as many pictures as people need. But not with the kids. It's just as simple as that really."
Is it good for the soul when you get back to your roots in Essex? "I miss it. When I go home I absolutely love it. I just don't get to do it oven enough. When people ask me what I miss about the UK, I always say winding country lanes. Because everything is on a grid system in America. You just drive straight and then you turn left or right.
"I miss Essex country lanes and the greenery and all my boys down the pub in Herongate, where I'm from. It's really great to get back when I get the opportunity. I get very defensive of Essex. There are so many beautiful villages and places to visit and the people rock."
You acted with another former screen vampire in Safe House? "Jason Watkins, who plays Simon Duke, is an old friend of mine so I was really chuffed to be working with him. We were two old vampires together. Jason in Being Human and me in True Blood. We laughed a lot.
"We've stayed in touch a little bit over the years, even though I've been away. But we've never actually got to work together. We had just such a lovely time. He is exceptional. It was an extraordinary cast right across the board. There wasn't a weak link in this show."
Safe House premieres on ITV on Thursday, September 7
Get the latest updates, reviews and unmissable series to watch and more!
Feature writer for TV Times, What's On TV, TV & Satellite Week and whattowatch.com
Sean has been writing about all things telly for over 10 years and in that time he's been lucky enough to interview stars like Ian McKellen, Tom Hardy and Kate Winslet. His favourite shows are The Great British Bake-Off, People Just Do Nothing and Succession and in his spare time he enjoys drinking tea, doing crosswords and watching football.
Thank you for signing up to Whattowatch. You will receive a verification email shortly.
There was a problem. Please refresh the page and try again.