Steve Coogan: 'I thought I might die taking cocaine'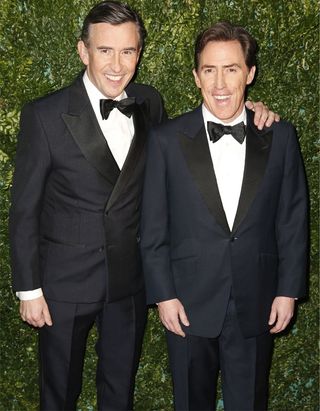 (Image credit: PA WIRE)
Actor and comedian Steve Coogan, best known as cringe-inducing Norfolk radio host Alan Patridge, has confessed to feeling like he was going to die after taking cocaine.
Writing in his new book, Easily Distracted, Steve recalls how he became hooked on drugs in an edited extracted published in The Guardian.
The 49-year-old, who surprised many with his portrayal of real-life journalist Martin Sixsmith in the 2013 film Philomena, revealed that he started taking drugs in 1992 when people supplied him with the illegal substance.
In the book, he recalled a terrifyling experience where he had a panic attack that left him feeling like he was about to die.
"I could feel pins and needles in my left arm, and my heart was thundering. I thought I was having a heart attack," he wrote.
"I was put in a car and driven through red lights to get me to hospital. I cried all the way. I couldn't stop thinking, "I'm going to die. This is it. My headstone will say: 'Stephen Coogan, born in Middleton in 1965, died in Edinburgh in 1992, aged 26 years.' What a waste!"
After the incident Steve went on to suffer from more panic attacks that "wouldn't go away". He sought help from a therapist, but once the attacks had eased off he began taking cocaine again.
"It was always around, always on offer. I didn't start to buy it until years later," he revealed.
"In those early days it was all recreational and relatively controlled. I'd have a line or two and stop. I liked it because it gave me confidence. I always thought, 'I'm not really one of those people who does cocaine, so I'll be OK.'"
Steve, whose recent travelogue The Trip – in which he and Rob Brydon review some of the finest restaurants in Europe – won critical acclaim, reveals that he no longer takes drugs and doesn't drink alcohol any more.
"But I am in no denial about my past," he said. "I will always be a recovering addict."
Get the latest updates, reviews and unmissable series to watch and more!
Thank you for signing up to Whattowatch. You will receive a verification email shortly.
There was a problem. Please refresh the page and try again.