'We've never done anything like this before!' Steve Pemberton and Reece Shearsmith on LIVE episode of Inside No.9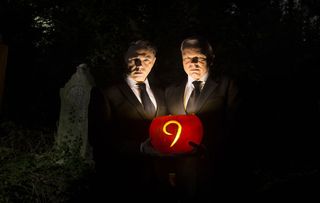 (Image credit: BBC)
Steve Pemberton and Reece Shearsmith reveal what to expect from a landmark live Halloween episode of their twisted comedy series.
Reece Shearsmith and Steve Pemberton, the ingenious creators of BBC Two's brilliant anthology series Inside No 9 are giving us the show's first ever live episode. But considering they have already written an episode in iambic pentameter, brought back silent comedy and set an entire half hour of television inside a wardrobe, this should be a breeze!
Anything could happen of course, but as it's Halloween we're promised a spooky tale, packed with their inimitable mix of humour and horror. Here's why Reece and Steve took the risk of a live half hour…
What can you tell us about this special episode?
Steve: "It's quite a spooky story, and it's set in the present. I play a man called Arthur, who is walking home one night and finds an old mobile phone in a graveyard. He brings it home with him and tries to find out who it belongs to, which kicks off the whole story. Reece plays a vicar, Rev. Neil and we have one guest star, Stephanie Cole, playing Moira, a member of the congregation. She gets involved trying to find the owner of the phone."
Reece: "We've always wanted to work with Stephanie, we've tried a few times before and it nearly happened. We're delighted to have her here on this particularly special episode. This one is definitely in the horror genre, but it's funny too."
Why did you decide to go live?
Steve: "It was the BBC's suggestion to do a live episode and when someone puts that challenge down it's impossible for us to ignore. We love setting ourselves these kinds of challenges – we've done a silent one before, a musical episode and even a half hour set in a wardrobe, but this is definitely an unusual prospect for us."
Reece: "We're always striving to do storytelling in a different way and we thought it would make a nice event. It should just be a good Inside No 9 that happens to be live, we've tried to make it as detailed as any other episode."
Are you nervous about everything being 'alright on the night'?
Steve: "There will be nerves, you can't stop the adrenaline, we have never done anything like this before with a lot of build up and then one chance to get it right. You've got to put it out of your head that people round the country will be watching, it's crazy if you think about it."
Reece: "I'm not that nervous, maybe that's wrong! I think we'll be alright as long as we rehearse enough, it's just like a play and we've just been doing the live tour of League of Gentlemen for months. We'll watch each other's backs and muddle through if anything goes wrong. We've got to embrace it, do the scenes and hope for the best!"
Steve: "A couple of bits that are very technically challenging, but we've gone through it in our heads and we think it's going to go well. There are always theatrical tricks you can use and that's what we've tried to think about, but until we get in the rehearsal room with all the equipment and crew we don't know. It's like a ballet between you and them moving into different positions, it's going to be a really exciting evening… let's hope it's scary in the right way!"
Are you big fans of Halloween?
Reece: "Oh yes, I'd have Halloween every day of the year if I could, I love it – doing a special makes me feel like I've died and gone to heaven! I have had Halloween parties in the past and I often go to Jonathan Ross' party – he puts on the kind of bash you see in films…"
Steve: "I like to take the kids round trick or treating instead, people make such a big effort."
Watch the Halloween special of Inside No.9 on Sunday 28th October at 10:00pm on BBC Two
Get the latest updates, reviews and unmissable series to watch and more!
Thank you for signing up to Whattowatch. You will receive a verification email shortly.
There was a problem. Please refresh the page and try again.