Doctor Foster star Suranne Jones on her new thriller: 'I filmed Save Me at a difficult time... it was therapeutic!'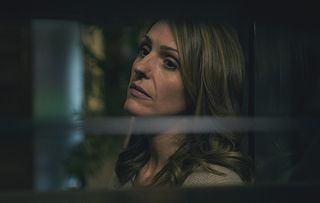 (Image credit: ©Justin Downing)
Actress Suranne Jones stars alongside Lennie James in new thriller Save Me, starting on Sky Atlantic next week. Here, Suranne reveals all about the new show, being a working mum and the success of Doctor Foster...
Doctor Foster's Suranne Jones stars in Save Me as mother Claire whose ex (played by Lennie James) maybe a kidnapper…
What do we find out about Claire?
"Claire grew up around the estate where Nelly (Lennie James) still lives and is the love of his life. They had an intense summer of love together, which resulted in a child, Jody, but then Claire felt she needed to move away and very much left that life behind."
Suranne as Claire alongside Lennie as Nelly, the man accused of kidnapping Jody
So what's Claire's life like now?
"These days, Claire's married, has a big house, nice clothes and expensive highlights and is very much 'new money'. She has tried to make something of herself and distance herself from her old life."
Claire and Nelly are thrown back together when Nelly's accused of Jody's abduction. How does Claire feel about seeing him after all this time?
"When Nelly and Claire are reunited, Nelly is bringing a whole load of history back. Claire looks good; she's looks the part. She certainly looks different when Nelly first sees her than she did years ago. Nelly and Claire get to know each other again and he drags her back into her old world; the one she's been trying to get away from. But Nelly has a charm that Claire just can't resist and they go on a journey together that they really didn't expect to go on."
What was it like working with Lennie, who both writes and stars in the drama as Nelly?
"He's a great actor and he was on set with us the whole time. He's got a great ear and the language in his scripts is really different – it didn't sound like anything I'd read before. It's very dark. I acted opposite Amelia Bullmore on Scott & Bailey when she'd written some episodes. Because they know the characters so well you can ask questions there and then."
Suranne, being a new mother yourself, how did that affect how you played Claire, a mum whose daughter has been kidnapped?
"It was a real difficult time for me anyway. I'd just lost my mother in real life and I'd just had a child so, actually, going to work and telling stories like this, is kind of therapeutic in a very bizarre way because you can find a connection to share. So it was difficult but I came out of it feeling like something had shifted. Like a healing."
Claire waits anxiously for new about her missing daughter
Your son is nearly two years old. How are you finding juggling work and motherhood?
"When I'm part of an ensemble cast and I'm doing a little less it's great because then I can go out in the mornings and wander around with him or I can get home for bathtime, which is fantastic and allows me to do what normal mums and families do. I love being a worker. I feel it's really important that I'm out working but, sometimes, when shoots are 14-hour days it is too much. I am glad that I go out to work and do that as part of being a mum but it's also nice to get home for bathtime. That would be a good balance."
Claire has a very nice wardrobe in Save Me. Did you get to keep any of her clothes once filming had finished?
"It was nice to go shopping for Claire because we went to the higher end shops, like Selfridges and Fenwicks, and had a bit of fun. I never really tend to take stuff home, though. I took some of Doctor Foster's jewellery because it really meant something but then costume were like: 'Do you want this nice Hugo Boss coat?' and I said 'no' because it just reminds me of her. When you put it on as you, it's not really you, it's the character."
Suranne Jones with her National TV Award for Doctor Foster
Speaking of Doctor Foster, you recently won the National TV award for Best Drama Performance for that drama. Could you have predicted it would grab the public the way it did?
"No, I don't think you can ever predict anything, you just make things you love and hope for the best. I just want to work with nice people and make good work. When people have worked hard all day, if they're anything like me they'll be looking forward to getting a bag of popcorn, sitting on the sofa with their loved one and thinking: 'Come on, entertain me.' I hope we managed that."
All six episodes of Save Me are available from Wednesday February 28th on Sky Atlantic.
Get the latest updates, reviews and unmissable series to watch and more!
Thank you for signing up to Whattowatch. You will receive a verification email shortly.
There was a problem. Please refresh the page and try again.