Suranne Jones on her new drama Doctor Foster: 'I've never done anything like this'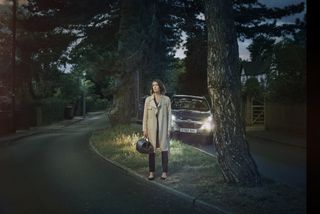 (Image credit: Drama Republic/Phil Fisk)
Suranne Jones has revealed she visited a real GP's surgery to prepare for playing one in new BBC1 drama Doctor Foster.
The former star of Coronation Street and Scott & Bailey plays Gemma Foster in the new series, a GP whose seemingly perfect life is thrown into disarray when she suspects her husband of an affair.
Suranne revealed to research the role she visited a GP surgery and "sat in a corner like some mad actress writing stuff down, as people were opening up and having blood tests and doing pee samples".
http://www.youtube.com/watch?v=3h9-kpiV9X0&feature=oembed
"I felt very awkward, but privileged to be in there as well," she confessed.
Suranne, 37, also watched the fly-on-the-wall Channel 5 series, GPs: Behind Closed Doors.
"My husband would come in and I'd be crying at all these real people in intimate situations," she revealed.
Suranne admitted she found being the star of the drama very demanding, but the toll it took on her actually helped her performance.
Suranne plays GP Doctor Foster in the new BBC show (Des Willie/BBC)
She explained: "I think in the whole five hours, there are about four scenes I'm not in.
"Filming-wise, it's been like The Truman Show. I've never done anything like that before. The big projects I've done have always been shared."
"The more extreme she got, the more exhausted I was getting," she added.
"According to the execs, that actually worked really well. I think they were basically saying I looked really tired and terrible, which was great!"
Doctor Foster begins on BBC 1, on Wednesday, September 9, 9.00pm.
Get the latest updates, reviews and unmissable series to watch and more!
Thank you for signing up to Whattowatch. You will receive a verification email shortly.
There was a problem. Please refresh the page and try again.