Suranne Jones: 'The Crimson Field's my first period drama. But Joan's a very modern character'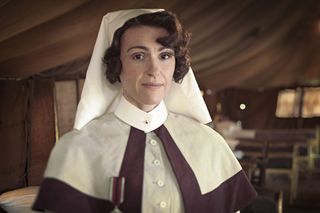 (Image credit: BBC/Todd Antony)
Suranne Jones tells TV Times magazine about riding a vintage motorbike, turning into her mother and shedding tears for her first role in BBC1's new period drama The Crimson Field (Sunday, April 6).
We're not used to seeing you look quite like this…
"I look like my mum! I have a picture of her on her wedding day, wearing a veil and I just look the spit of her. It has shocked me – every morning I think, 'Oh God, I'm my mother!'"
Are you enjoying the different costume, though?
"The costume is very severe and the look is so different for me, which is great, although wearing no make-up does make you feel exposed. When the weather was a bit harsher we were getting really muddy and the skirts were so heavy – it made you think about how those women always managed to look so pristine."
You play Liverpudlian reservist nurse Joan Livesey in this six-part series about the First World War, which tells the story of the first wave of volunteer nurses (VADs) arriving at a field hospital in France in 1915. What's she like?
"She rides a motorcycle, she's had her hair chopped off and she's a suffragist, so she's very forward-thinking. Joan champions the VADs and believes they should have a more hands-on role, which clashes with Matron Carter and Sister Quayle [played by Hermione Norris and Kerry Fox], who think the girls are just good for washing linen and making beds. So she causes a bit of a stir, plus we discover that actually she hasn't come to France to nurse – she has a secret…"
What was it like riding a vintage motorcycle?
"Even the stunt girls hadn't ridden a vintage motorcycle before and it's a really heavy piece of machinery, so I couldn't even push it – I had to get the supporting artists to help me! The goggles were a problem too because they were made for men. Women have smaller faces, so when I put them on they would fall to either side like Toad of Toad Hall!"
This is your first period drama as well…
"It's funny, I got the call offering me the part and it was only after that I started thinking, 'Oh this is my first period drama!' But Joan is a very modern character in this world and I think that that's what worked for them, knowing that I usually do contemporary pieces. It's exciting, I think I just happened to fit the bill for Joan."
Do you think you would have signed up for the VADs in similar circumstances?
"It's a difficult situation to put yourself in, but everybody wanted to do their bit and when the men were going out to war I think it was important to women to find their place in this new, ever-changing society."
Did you do a lot of research?
"Yes. And one of the things that came up is that community was a huge thing at that time, and it's something we have definitely lost. It does make you wonder, should a big disaster happen now, how would we react? In horrific times you would hope that you would step up to the challenge – I roll my sleeves up and get on with pretty much anything."
Did you ever struggle with filming?
"One day there was a supporting artist with gauze over his eyes and fake blood. He couldn't see where he was going and he was just left wandering. I saw him and just started crying because suddenly I realised what it would have been like in the war. It was a weird thing because obviously we're making a drama, but it was a very strange moment where I suddenly started to really think about all those things. You can't let yourself do that too much or you would be sobbing all the time."
The Crimson Field has been made alongside a series of BBC documentaries to mark the centenary of the First World War. What do you hope people take away from this?
"Our series offers a human look at The Great War, because it's not set on the battlefield. It shows what happens afterwards – the trauma, the care, the nursing and then also the heartbreaking thing of who you send back to the front and why. To me, 100 years doesn't sound that big a number and I hope people will realise that this wasn't a long time ago. Hopefully they will see something different and be educated and fascinated by our history."
Get the latest updates, reviews and unmissable series to watch and more!
Thank you for signing up to Whattowatch. You will receive a verification email shortly.
There was a problem. Please refresh the page and try again.