Susanna Reid: My top money-saving food tips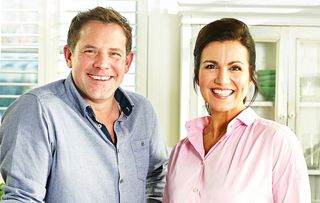 Susanna Reid reveals how we can save money in our kitchens in her new ITV show Save Money: Good Food.
Susanna Reid is used to a challenge as she gamely holds her own every day on the Good Morning Britain sofa alongside the forthright Piers Morgan! But now, in ITV's eight-part series Save Money: Good Food, the 46-year-old has a new mission and a new co-host as she joins chef and Saturday Kitchen presenter Matt Tebbutt to help a range of families change their cooking and shopping habits and create delicious but cheap meals.
Here Susanne gives TV Times her top tips for saving money in the kitchen…
Don't have your head turned by supermarket promos "Check that it is the absolute best price you can get for that item and if you go for a 'buy one get one free' make sure you'll use the free thing."
Ditch your preconceptions about own-brands "People have a tribal loyalty to the baked beans or cornflakes they grew up with, but the cheaper alternative can be just as tasty and save you money."
Relax about 'best before' dates on fruit and vegetables "We chuck too much veg away thinking it is not edible when that's not the case. If it looks and smells all right, you can usually still eat it."
Your freezer is your friend "People treat their freezers like Narnia and are scared of going in too deep, but you should use you frozen food and it is often cheaper than fresh."
Cook meals that the whole family can enjoy "Try not to end up cooking something for your kids and then something else for yourself because then you are spending twice."
Save Money: Good Food premieres on Tuesday, April 4 on ITV at 8pm
Get the latest updates, reviews and unmissable series to watch and more!
Thank you for signing up to Whattowatch. You will receive a verification email shortly.
There was a problem. Please refresh the page and try again.