SVU fans 'tired' of waiting after Olivia and Stabler don't kiss (again)
Should viewers just give up on a #Stenson power couple?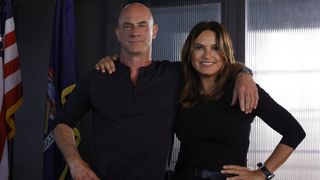 (Image credit: Will Hart/NBC)
If there was ever a time when Law & Order: SVU fans wanted to throw a Hulk-size tantrum, it was certainly at the conclusion of the January 26 episode, "Blood Out." After teasing fans for two weeks with a promo that Olivia Benson (Mariska Hargitay) and her former partner Elliot Stabler (Christopher Meloni) would finally find themselves in a position to kiss, in the end the two NYPD cops don't actually go through with it. This time the person responsible for pressing on the brakes in this stop-and-go romance is Olivia.
For the past few weeks on SVU, Liv has found herself in a very precarious situation. After working with the Bronx SVU to go after dangerous gang leader Oscar Papa (Goya Robles) for multiple counts of rape, with one of Oscar's henchmen being killed in the process, Oscar decided to exact vengeance on Olivia. He ordered a hit on both her and her son. While her son was able to walk away from the incident without any physical injuries, he unfortunately witnessed his mom get beat up pretty severely (the police captain is still sporting a shiner).
Fearing for her son's life, Olivia sent him away for a bit and got down to business in trying to build a case against Oscar for rape and now attempted murder. After all the life events we've watched Olivia go through, seeing her son threatened by a perp brought out a grittier side, willing to do almost anything to keep Oscar in prison and her son safe.
Fast forward to "Blood Out," where Olivia and her team desperately try to salvage a case against Oscar that is slipping through their fingers with every murdered and intimidated witness unable to testify. She even becomes ready to throw in the towel and see Oscar walk. But after he orders a hit on Detective Mike Duarte (Maurice Compte) of the Bronx, Oscar actually ends his cat-and-mouse game with Olivia and confesses to the attempted murder of Olivia and her son, and the murder of Duarte. That's enough to ensure he stays locked away for a very long time.
After all of the drama surrounding the case, the writers of the episode reserve the last few minutes for some #Stenson time. Stabler brings Olivia's son back home, as Elliot is the only person besides herself she trusts to do so. While the former partners catch up, they find themselves practically nose to nose talking about "them." As he leans in for a kiss, Olivia utters the statement that caused quite the uproar among show fans. She states, "I'm not ready for this." Take a look at the scene for yourself.
After 24 years, viewers are understandably confused about how she couldn't be ready for a kiss. Olivia has loved this man for over two decades and she's still not in a place for a peck on the lips? It looks like the supporters of this romance will just have to keep waiting to see if "one day" ever comes for these two.
Law & Order: SVU fans react to Olivia and Elliot not kissing
SVU fans are not holding back their disappointment, in some cases outrage, over the lack of a kiss. There are even those who feel they've been misled by last week's episode promo. Check out what people are saying on Twitter.
Law & Order: SVU season 24 continues airing new episodes on Thursdays on NBC. Episodes become available to stream the next day on Peacock.
Get the What to Watch Newsletter
The latest updates, reviews and unmissable series to watch and more!
Terrell Smith has a diverse writing background having penned material for a wide array of clients including the federal government and Bravo television personalities. When he's not writing as Terrell, he's writing under his pseudonym Tavion Scott, creating scripts for his audio drama podcasts. Terrell is a huge fan of great storytelling when it comes to television and film. Some of his favorite shows include The Crown, WandaVision, Abbot Elementary and Godfather of Harlem. And a fun fact is he's completely dialed into the TLC 90 Day Fiancé universe.