Tamsin Greig: I was 'very serious' before comedy career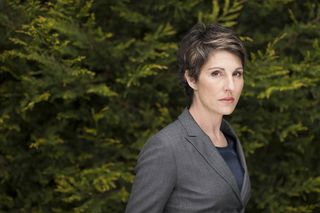 (Image credit: des willie)
Tasmin Grieg feels that her comedy career has overshadowed her dramatic prowess.
The actress, 47, who made her name in sitcoms such as Black Books and Green Wing, has told TV & Satellite Week she's delighted to be working against her comedy persona and unleashing her serious side in dark ITV crime drama The Guilty, which premieres on Thursday, September 5.
The harrowing three-parter sees Tamsin star alongside Katherine Kelly and Darren Boyd as a dedicated detective who leads the investigation into the death of a small boy. She admits that she was pleased the producers could see past her comedy background to give her the role.
"The irony is that before Black Books I was known for very straight theatre, but suddenly that happened and people said, 'She's the one who did the funny with Bill Bailey and Dylan Moran,' but I was very serious before that!" she laughs. "Even a year or so ago I did a drama, White Heat, where I play a bipolar woman, but I think with comedy there are more episodes so people see more of that and assume that is what you do and are nervous of getting you out of how you are seen. It is a gamble for ITV to cast me in The Guilty, but I am just really grateful to have the opportunity."
The actress will soon return to comedy, however, when BBC2 sitcom Episodes returns for a third series. She stars as a British writer in LA alongside Stephen Mangan and Matt LeBlanc.
"It's always exciting to go back to stuff where you are aware of the territory, but to find a new way through it and to go deeper with relationships," says Tamsin. "In Episodes from series one to series two my character Beverly went from saying, 'I hate this place' to saying, 'We are going to stay here' so it'll be interesting to see why they are still in LA now and how they are going to navigate their way through things.
"It's just lovely to do, it is just classy writing, beautifully made and I get to drive a Mustang!"
Another series of Channel 4 comedy Friday Night Dinner is also on the cards for Tamsin.
"I think the appeal is that we have all, more or less, come from a family," she says. "We have all, more or less, behaved like idiots around our parents so there is something to plug into for everyone, whoever you relate to or can't bear or want to set fire to!"
For the full interview, buy TV & Satellite Week, which is on sale now.
Get the latest updates, reviews and unmissable series to watch and more!
Thank you for signing up to Whattowatch. You will receive a verification email shortly.
There was a problem. Please refresh the page and try again.