Is The Bay the new Broadchurch? Star Morven Christie reveals all about the HUGE new ITV drama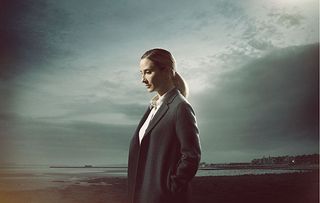 The star of The A Word and The Replacement plays a conflicted family liaison officer in ITV's atmospheric new crime drama set in Morecambe, which starts tonight at 9pm on ITV
Morven Christie plays police officer Lisa Armstrong working on a missing persons case in The Bay, a new crime drama on ITV. Assigned to be the family liaison officer to the parents of a pair of twins who have disappeared, Lisa learns she has an unexpected connection to the case.
We caught up with Morven, who appears alongside Daniel Ryan, Jonas Armstrong and Chanel Cresswell, to find out more about massive new ITV drama The Bay...
What can you tell us about your character, Lisa?
Morven Christie: "When two children are reported missing, Lisa is assigned to be the family liaison officer. It emerges that she has an unfortunate connection with the family, and she makes some quite dramatic mistakes. So it's not about a superhero female cop!"
She's also a mum. How's her work/life balance?
MC: "Lisa has worked hard to keep home and work separate, but both are suffering. She's very career-orientated and has an overwhelmingly engaging job with long hours. Her personal life unravels alongside her professional life as those two things collide."
What does the job of a family liaison officer – or 'FLO' – entail?
MC: "The FLO could be seen as a cuckoo in the nest. You're a point of contact between the family and the police investigation. But as well as looking after them through the case, the job of the family liaison officer is to investigate within the family."
The Morecambe location is important. What did you make of the place?
MC: "You often have dramas set in generically northern towns, but this is specifically about Morecambe. It's beautiful, with this extraordinary coastline, and the landscape has a vastness to it. I grew up in the Highlands, and it's quite similar. The mood of the place changes when the clouds come in, which is really atmospheric."
Some people have called The Bay 'the new Broadchurch'. Is it?
MC: "I haven't actually seen Broadchurch! I doubt they're similar, but people always want to find a similarity. When I first read the script, this felt really different because of where it is set and the characters, so that was refreshing."
The Bay is about a police investigation, but there's a strong emphasis on family, isn't there?
MC: "So much of it is about families. Essentially, there are these two women – Lisa and Jess [Chanel Cresswell], the mother of the missing children – who, in lots of ways, have parallel lives. In crime documentaries like 24 Hours in Police Custody, what's interesting is what people go through. This puts you at the heart of how these people are affected by what happens."
Could you do Lisa's job?
MC: "If I was going to be a detective, I probably would have already done it! But instead I decided on the toughest profession you can go into as a woman – acting. I came to it late, but I love what I do."
Are things improving for women in the acting profession?
MC: "There are a lot more flagship female leads in shows now, but what tends to happen is that 80 per cent of the other screen time is male, and most of the other characters are male. There's a long way to go."
Did you get any injuries while playing a cop?
MC: "The odd one, but you always get cuts and bruises when you're filming. 'MFI', I call them – Mystery Filming Injuries!"
Do you fancy doing appearing in something a bit lighter – a comedy perhaps?
MC: "I love the drama! I've been fortunate over the last few years, with shows like The A Word and The Replacement. To me, extremities are what's interesting – examining and exploring them."
How was it mastering a Lancashire accent?
MC: "This is set not far from the Lake District, where The A Word was set, and I didn't want the accents to be similar, because the characters aren't. I rarely get to use my own Scottish accent!"
Do people expect you to be like the characters you've played?
MC: "It's weird, isn't it? If you are an actor who appears on television, people assume that, you have to accept it. I live quite a small, little, normal life! I don't want people watch this and think: 'There's Morven Christie being whoever.' I want them to be like: 'Okay, so this is DS Lisa Armstrong.'"
The Bay begins at 9pm on ITV on Wednesday 20 March.
Ian writes about TV and film for TV Times, What's on TV and TV & Satellite Week magazines. He co-hosts the weekly TV streaming podcast, Bingewatch.
Get the latest updates, reviews and unmissable series to watch and more!
Thank you for signing up to Whattowatch. You will receive a verification email shortly.
There was a problem. Please refresh the page and try again.