The Comedy of Terrors (1963) | Four masters of menace unite in a vintage horror farce on Blu-ray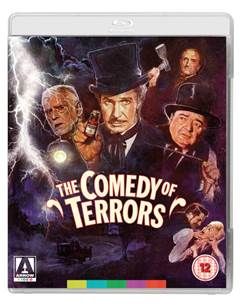 From Jacques Tourneur, director of the horror classics, Cat People, I Walked with a Zombie and Night of the Demon, comes the 1963 horror spoof, The Comedy of Terrors, starring four masters of the macabre - Vincent Price, Peter Lorre, Basil Rathbone and Boris Karloff - coming to DVD and Blu-ray from Arrow Video on 16 February.
SYNOPSIS Inebriate undertaker Waldo Trumbull (Price) is running a New England funeral home business owned by his ageing father-in-law (Karloff)… straight into the ground. Hounded by his penny-pinching landlord Mr Black (Rathbone) for non-payment of rent, Trumbull and his put-upon assistant Felix Gillie (Lorre) hatch a plan to boost business. But murder is just not their forté, especially when their latest 'client' refuses to stay dead…
THE LOWDOWN As the roguish Waldo Trumbull, Price is at his 'delicious boozy hammiest', and has a whale of a time making the most of the film's venomous dialogue – in particular his put-downs of Lorre's wanted fugitive Felix (who is terrible at DIY coffin-making). Their slapstick misadventures evoke comedy greats, Laurel and Hardy – with Price even reappropriating their famous catchphrase: 'A fine mess you've made of things again!' Sadly, this was also the last time that the two pals got to act together, as the ailing 59-year-old Lorre died just two months after the film's release. Fittingly, it was Price who delivered the eulogy.
Veteran stars Basil Rathbone and Boris Karloff are also game for a laugh in the Arsenic and Old Lace-styled affair (that classic 1941 play also sent up Boris Karloff's horror screen persona), with Rathbone especially good as the Shakespearean-spouting cataleptic who refuses to 'shuffle off his mortal coil', while also playing on his swashbuckling antics in 1938's The Adventures of Robin Hood.
The downside to Tourneur's film, however (it was the director's second-to-last feature before retiring), is that it's rather stagey and old-fashioned (especially for the 1960s teen crowd that it was aimed at). It remains, however, a firm favourite of mine – a gleefully ghoulish slapstick affair with a classy never-to-be-repeated cast of old Hollywood greats.
THE ARROW UK BLU-RAY/DVD RELEASE The Comedy of Terrors is presented on Blu-ray and DVD, with the HD master being made available by MGM via Hollywood Classics, and includes optional English subtitles. For an in-depth look at the extras, check out Pete's full review (click here).
DID YOU KNOW?
Cleopatra is played by one of Hollywood's most celebrated animal stars, Rhubarb (aka Orangey) – a 12-pound marmalade tabby who won two American Humane Association's PATSY awards for 1951's Rhubarb and 1961's Breakfast at Tiffany's (in which he has almost seven minutes of screen time), and who also appeared in The Incredible Shrinking Man (1957) and Village of the Giants (1965). In The Comedy of Terrors, Rhubarb, who has been present throughout the madcap mayhem, gets an inspired silent comedy scene in the closing credits, creeping over the bodies that have piled up during what was the director's second-to-last feature, before he moved into television then retired in France.
Get the What to Watch Newsletter
The latest updates, reviews and unmissable series to watch and more!