The Mill's new star Andrew Lee Potts likes 'looking like a gentleman'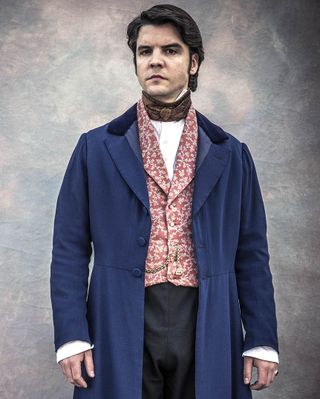 Andrew Lee Potts (opens in new tab) has joined The Mill for the second series and says he loves playing wealthy, 19th-century fashionista William Gregg.
"The role is different from what I've been doing for the past couple of years," says Andrew. "I've been doing a lot of modern things…" including ITV's Primeval (opens in new tab) and BBC's By Any Means (opens in new tab).
"So to put on all the gear and to stand up straight for once in my life… my mother loves it. I'm used to a hoodie and a leather jacket but now I'm looking like a gentleman. It's been a challenge, but it's been really interesting."
So is his hairstyle.
"Yes, I do get some quiffage," Andrew agrees. "My character is that person who wants to be at the cutting edge of fashion at the time, with his quiff, and at one point he does grow a moustache because he thinks it's cool and then he finds out he doesn't look so cool and the moustache goes.
"I had to fake the moustache, though, as I didn't have time to grow one. It was quite constricting on the face, and made everyone laugh."
The Mill (opens in new tab) returns to Channel 4 on Sunday, July 20, 8.00pm.
Thank you for signing up to Whattowatch. You will receive a verification email shortly.
There was a problem. Please refresh the page and try again.