The Quiet Ones (2014) | Film review - Hammer serves up a chillingly effective possession horror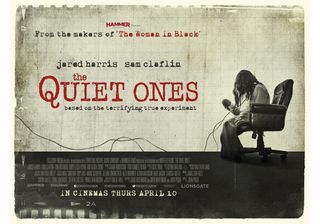 In May 1974, unorthodox Oxford professor Joseph Coupland (Jared Harris) begins a controversial experiment with research assistants Krissi (Erin Richards) and Harry (Rory Fleck-Byrne) and cameraman Brian (Sam Claflin). Based on the theory that paranormal activity is caused by human negative energy, and wanting a cure for mental illness, Coupland undertakes some questionable tests on 19-year-old Jane Harper (Olivia Cooke), who believes she is possessed by an entity called 'Evie' and has no memory of her childhood.
When his funding is abruptly cut (warning: never play Slade at full volume), Coupland leads his team to a sprawling abandoned house in the countryside where their radical experiments continue uninterrupted. But as Coupland pushes Jane to the edge of sanity, unexplained occurrences begin to take place, which triggers a force more terrifying than Coupland or his team could have ever have imagined…
THE LOWDOWN Hammer CEO Simon Oakes describes The Quiet Ones as the kind of film the studio would have been making if they were still in business in the mid-1970s. Well it certainly pays homage to the era, in which satanic/possession films like 1973's The Legend of the Hell House and The Exorcist (both set in contemporary times) were in vogue, while the film's themes of psychological horror and soul transference echo those in the 19th-century-set Demons of the Mind and The Asphyx, made the year before.
Writer/director John Pogue (who also penned 2002's Ghost Ship and two sequels in The Skulls franchise) creates a suitably chilly atmosphere in which his science versus faith horror tale unfolds, before unleashing (at my count) five good scares – the steam bath scene is geniunely creepy, and watch out for the teleplasm!
Both Jared Harris (last seen hanging himself in TV's Mad Men) and Olivia Cooke (currently in my must-watch US drama, Bates Motel) are excellent as the obsessed Coupland and his 'willing' subject, the doe-eyed Jane - who may or may not be hiding the truth about her 'condition'. But the scenes of running about in the dark come off as a bit silly - like something out of TV's Most Haunted. Aside from that, it's a huge thrill to see a new Hammer film on the big screen - even if the revived studio, whose last film was the Edwardian spookfest The Woman in Black, hasn't 'yet' decided to shake off the past...
LINKS • Fright Club UK Facebook Page • Hammer Horror Film's UK Facebook Page • Fright Club UK Twitter Page • Hammer Horror Film's UK Twitter Page http://youtube.com/v/1GNyQusclgw
Get the latest updates, reviews and unmissable series to watch and more!
Thank you for signing up to Whattowatch. You will receive a verification email shortly.
There was a problem. Please refresh the page and try again.