The Tragedy of Macbeth (1971) | Roman Polanski's violent adaptation gets a timely restoration re-release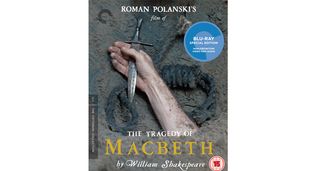 Roman Polanski's The Tragedy of Macbeth arrives on Blu-ray this week as part Sony Pictures Home Entertainment's launch of The Criterion Collection in the UK, which times perfectly with this month's 400th anniversary of William Shakespeare's death.
This 1971 interpretation of the Bard's 'Scottish play', co-adapted by theatric critic Kenneth Tynan, is a bleak and unsettling one indeed, featuring graphic, gruesome violence. But the moody photography, the evocative improvised score, the striking use of the stark English and Welsh landscapes and castles, and Polanski's surreal imagery go a long way in capturing the essence of Shakespeare's classic tragedy.
In medieval Scotland, Macbeth (Jon Finch) is a war hero who, according to a prophecy told by three witches, is destined to become king. Goaded by the scheming Lady Macbeth (Francesca Annis), he murders King Duncan (Nicholas Selby) and assumes the throne. But his moral decay continues to haunt him as he tries to keep the unsteady crown on his head…
Boasting Bafta-winning costumes, standout performances (watch out for Keith Chegwin as Fleance), and quite a lot of nudity mixed in with all that bloodletting, this is a compelling modern interpretation that rivals Orson Welles' 1948 version in terms of atmospherics, and just as raw, gritty and earthy as Akira Kurosawa's Throne of Blood (1957). And to think that Polanski's violent examination of the corrupting power of ambition would never have been made had not Hugh Hefner's Playboy company come to the rescue when the Hollywood big boys bailed on the project.
This director-approved edition features the 4k digital restoration of the film and includes a new documentary featuring interviews with Roman Polanski, producer Andrew Braunsberg, assistant executive producer and former Playboy executive Victor Lowner, and actors Martin Shaw and Francesca Annis (catch a sneaky peek here); plus, there's a 1971 making-of documentary and two archive TV news magazine segments.
http://www.youtube.com/watch?v=X28RA83o2Nw
Get the What to Watch Newsletter
The latest updates, reviews and unmissable series to watch and more!