The Voice's Stevie McCrorie: 'It's so weird being recognised when I'm fitting smoke alarms!'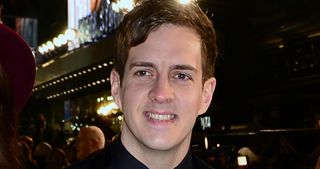 (Image credit: PA Wire/Press Association Images)
After weeks of tough blinds, battles and knockouts on BBC1's The Voice (opens in new tab), we've reached the nerve-wracking live stages as the last 12 acts perform to nab the viewers' votes.
TV Times (opens in new tab) caught up with the two hot favourites to win: Scottish firefighter and dad-of-one Stevie McCrorie, 29, one of Ricky Wilson's final three; and Leicestershire barmaid Sheena McHugh, 26, who is being mentored by will.i.am's team…
How do you feel about going in as the favourites?
Stevie: "It is overwhelming to have got this far and I feel privileged but nervous. I didn't know I'd be the favourite, but it still hasn't given me confidence to say I deserve to be here."
Sheena: "It blows my mind. Singing to the nation on Saturday night has always been on my bucket list so it just means the world. I am excited, but I have to fight hard to confront my nerves."
What advice have your coaches given you?
Stevie: "Ricky's amazing and just says, 'Keep doing what you are doing'. If I was to join a band, he's the type of guy I'd feel comfortable around because he puts his heart into things."
Sheena: "Will has told me to just be myself, too. He likes that I'm passionate and I sing from the heart. He sees things differently and he is funny, but I've been surprised at what an emotional person he is and how he is so normal and family orientated."
What was it like to have all four coaches turn for you at the blinds?
Sheena: "I didn't walk onto that stage confident that anyone was going to turn so I feel privileged that I got that reaction."
Stevie: "Yeah, it is just so flattering. One minute I was at work and changing nappies and the next I was getting four superstars fighting over me. When Rita gave me a massage I've never felt so embarrassed!"
Who are your big rivals?
Stevie: "Clark Carmody's a great talent, but he's become a friend for life, so it's awkward thinking he could be the competition. But the public have taken to Sheena too, she's a really nice lass!"
Sheena: "I love Stevie too! He's got the Scottish vote, but hopefully Leicestershire will ring in for me. But any of the 12 could be dark horses; they are all amazing."
Stevie, how do you feel about being the oldest in the contest?
Stevie: "It's now or never for me, but Ricky told me that 29 is not too old for a music career because he was 27 when he got recognised. So the age thing doesn't bother me, it just means I've got experience. I've gigged since I was 16 and the knockbacks have given me the fire to go for this."
Sheena, you had a bad car crash a few years ago, was that a big setback?
Sheena: "Well, I lost my voice for a while and there was also the risk of paralysis, but I'd rather have been in a wheelchair than never be able to sing again. Music is everything, I don't have a back-up plan, so when I thought that might not be an option any more I felt lost and scared."
Why did you pick The Voice over other shows?
Stevie: "I just knew that it was credible and more about the singing and any criticism is constructive. It was the guys at work who applied because they knew I'd said if I did apply for anything it would only be The Voice."
Sheena: "I got to boot camp on The X Factor a few years ago and that was brilliant, but The Voice is just a better show for me because it is not about the way you look or your background, it is just about how well you sing."
Has it been weird getting recognised?
Stevie: "Big time! I was at the airport the other day and 30 people wanted photos. The weirdest thing is when it happens when I'm at work fitting a smoke alarm! I'm more interested in becoming an artist than a celebrity, but I feel blessed that people take the time to say nice things to me."
Sheena: "I went back to sing at my old school and it was surreal when the kids wanted selfies and autographs. I've even been recognised in a pub toilet. This lady was so desperate for the loo that she was jogging on the spot, but she didn't want to miss talking to me!"
What's your ultimate dream?
Stevie: "To have a career in music and provide for my wife and daughter. I love my job as a firefighter and I'd hate to give it up, but I'd love to play decent-sized venues and festivals. Longevity is big thing for me though, I'm not interested in just having one hit."
Sheena: "For me it would be to release an album with my music on it and I want to know what it is like to sing to 3000 people every night or even 300,000. I'd really love to be able to be a featured vocalist on dance tracks too and that's why I picked Will, he knows how to record a female voice."
And who would be your fantasy duet partner?
Stevie: "Ricky! He's a fantastic frontman. Bono from U2 would be great, too, and I admire Paolo Nutini. He's Scottish and a similar age to me and I really appreciate what he has achieved.
Sheena: We are all dreaming about duetting with our coaches, but Celine Dion has the best voice in world so I'd love to sing with her or Beyonce, because she would give you another level of energy."
Get the latest updates, reviews and unmissable series to watch and more!
Thank you for signing up to Whattowatch. You will receive a verification email shortly.
There was a problem. Please refresh the page and try again.