The Windsors' Morgana Robinson: 'I love playing a bitchy Pippa Middleton'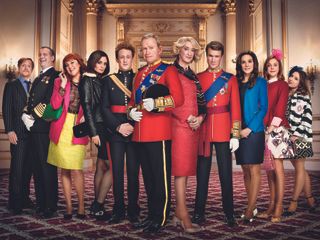 What's the Royal Family really like behind closed doors? Hopefully nothing like they're portrayed in Channel 4's six-part comedy The Windsors (premieres Friday, May 6, 10pm).
In this spoof, they're caught up in plenty of madcap shenanigans, intrigue and backstabbing!
One of the most outrageous characters is Pippa Middleton, sister of Princess Kate. Pippa's portayed as a gold-digger who's desperate for cash and to be a proper royal, too. She's forever trying to get passionate with party boy Prince Harry.
"It's all very outrageous and fun," explains Morgana Robinson, the Australian comedian who plays twisted Pippa. "The series is basically a comedy soap opera, so there's an underlying story throughout, with lots of twists.
"The Royals are our national obsession and ripe for parody. All the characters are very exaggerated so it's very silly. I loved playing bitchy Pippa. She shows off her bottom quite a lot."
The Windsors also stars Harry Enfield as a grumpy, controlling Prince Charles and Hadyn Gwynne as Camilla, who's forever scheming against Prince William (W1A's High Skinner), Princess Kate (Louise Ford) and Prince Harry (Fresh Meat's Richard Goulding).
"I hope people don't get offended by our comedy," laughed Morgana. "But there'll always be someone gets their knickers in twist I suppose."
Watch a trailer for Channel 4's The Windsors:
Get the latest updates, reviews and unmissable series to watch and more!
Thank you for signing up to Whattowatch. You will receive a verification email shortly.
There was a problem. Please refresh the page and try again.